Foreign Minister Sergei Lavrov noted that Russia has irrefutable evidence of the fake nature of the statement about the chemical attack by the Assad troops in Eastern Gut. According to the head of the Ministry of Foreign Affairs of the Russian Federation, the so-called "chemical attack by the CAA" was staged with the aim of another attempt to save the terrorists.
Sergei Lavrov noted that the special services of the state, "which is now eager to be in the front ranks of the Russophobic campaign," had a hand in the production.
Lavrov on the beginning of the work of experts of the OPCW:
She (the mission) should arrive in Damascus, I think, tomorrow morning, and we expect that without delay she will go to the Duma, where there is no evidence of the use of chemical
weapons
, chlorine or whatever our specialists, who examined this place, did not find.
It is noteworthy that in any place where it is declared the use of chemical weapons, so-called "White helmets" arise - a group that is affiliated with the terrorists of "Dzhebhat al-Nusra" (banned in Russia).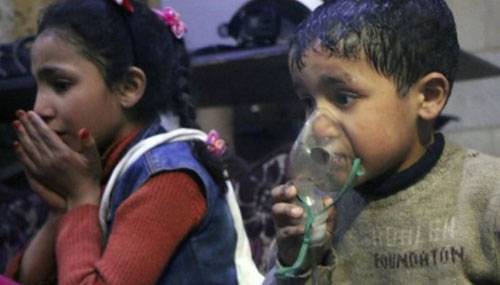 In turn, the materials filmed by the "White Helmets" are actively disseminated by the Western media, and the Pentagon publishes publications based on these materials at all as "proof of a chemical attack carried out by Assad." At the same time, in the West, no one says a word that Assad is the one to whom the himataka in Eastern Gute was the least needed against the background of the military successes of the Syrian army.