The Ministry of Defense of the Russian Federation is developing a new mine system, which will independently find and destroy enemy armored vehicles. To do this, TM-83 anti-aircraft mine will be installed on a special robotic platform.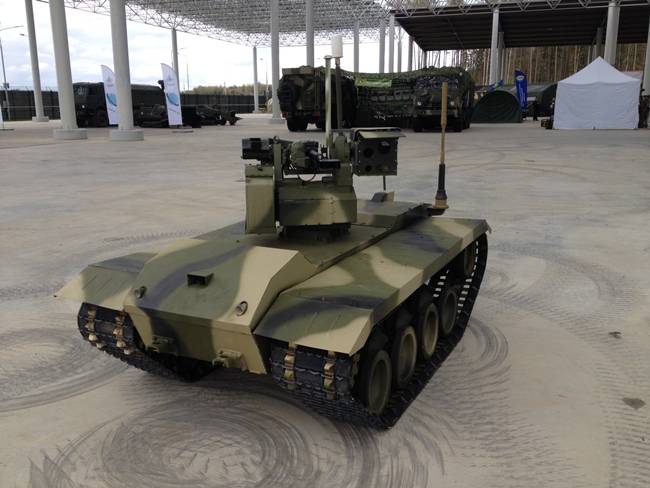 "Nerekhta"
In the Ministry of Defense newspaper
News
They said that the system from the TM-83 mines on the chassis of the robotic platform is an initiative development of the military department itself. The complex is already included in the list of advanced armament of engineering troops.
As the carrier of the robotic mine system (PMC) today are considered platforms "Nerekhta", "Platform-M" and a number of others. Currently, the PMC is controlled by the operator. In the future, "robots will gain greater autonomy, while they will be able to transmit information in real time about the location and number of the enemy," the publication said.
According to experts, the PMC "will independently bring itself into a combat position and determine the best time to trigger." In addition, according to the plans of the military, "kamikaze robots" will gain the opportunity to act in a group. Mines will be equipped with identification "friend-foe".
It is reported that the basis of the system is the TM-83 anti-tank mine, outwardly similar to an army searchlight and, unlike most analogs, an attacking board
tank
rather than the bottom of a combat vehicle.
"The seismic sensor records the earth's oscillations, puts the mine into a combat position and turns on an infrared detector, which searches for thermal radiation from an armored vehicle engine. If the target is not detected within three minutes, TM-83 again goes into standby mode. The cumulative jet pierces a hole in the armor with a diameter of 80 mm at a distance of 50 m, "writes the newspaper.
Land robots today are perfectly controlled remotely using optical control systems and over the air. It is important that the "suicide bomber" was small, and its platform had a high maneuverability. Then the complex quietly gets to the right place and produce an explosion. If these systems are able to independently deliver and place mines, the main problem will be solved - the accuracy of their installation,
said military expert Oleg Zheltonozhko to the publication.