The firm A-Square (USA), specializing in the development and production of non-standard ammunition, completed work on the creation of homing bullets. They are based on bullets for caliber .577 cartridges. Homing is done with an electronic compass developed by Silicon Standard Corp. and a microcontroller developed by Atmel, located in the head of the bullet. Bullet maneuvering is carried out with the help of stabilizers, which play the role of rudders and are in the tail of the bullet, which, if necessary, are pulled out of the body of the bullet by metal plates having a "memory" when the controller applies control voltage to them. After completion of the maneuver, stabilizers do not return back, the movement of the bullet is coordinated by the other rudders.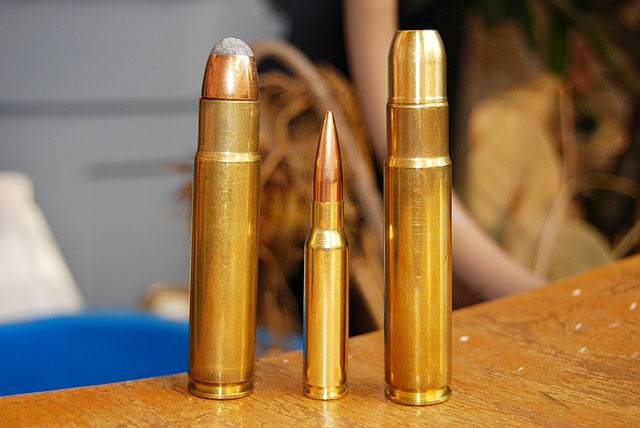 In case of loss of speed, the bullet can be additionally accelerated by built-in pyrotechnic micro charges, also located in the tail section of the bullet.
The bullet has a titanium tip and is designed to defeat manpower, shelters and lightly armored vehicles, as well as the failure of defense systems
tanks
and air defense.
Before the combat use of ammunition are adjusted and referenced to the terrain, which can be made in advance. The role of communication bus is played by stabilizers already familiar to us. To connect with them using an adapter to USB. In preparation for the production of a shot, the operator selects the target and enters its characteristics into the controller. The data includes the coordinates, color, temperature, the forecast of the possible movement of the target, which is calculated in advance using a computer, etc.
Practical firing range can reach 7 km and depends on the equipment of the cartridge, but if necessary, you can save the shooter from recoil and increase the range of destruction. To this end, A-SQUARE, in addition to standard shock absorbers, plans together with the company Chrysler Defense Inc. develop a self-propelled robotic chassis, which will independently prepare ammunition for a shot, move to the starting position and fire the enemy in accordance with the list of specified targets. This chassis will have a small height (not more than half a meter), retractable side stabilizers to avoid tipping, and a length of no more than one and a half meters. The issue of booking is solved. The movement will take place on rubber tracks driven by the motor-wheels and is assumed to be noiseless. The engines will be powered by high-capacity lithium-ion batteries.
Estimated cost of a bullet for mass production is no more than $ 150.