On Cosmonautics Day, the Russian President visited the VDNH pavilion related to space issues. Today, the opening of the Cosmonautics and
aviation
».
Being at the Exhibition of Economic Achievements, Vladimir Putin spoke about plans to begin testing the latest domestic super-heavy rocket. According to the president, the trials will begin in 2028 year.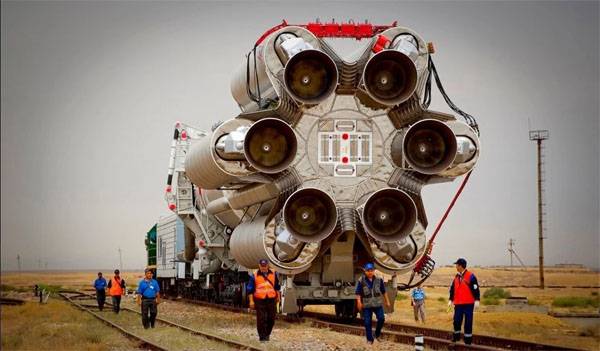 President of the Russian Federation:
Super heavy rocket, the first test is planned in 10 years. We need to simultaneously create a platform for such a rocket.
Earlier it was reported that plans for sending spacecraft to Mars and more distant planets could be realized with the help of a promising extra-heavy rocket.
The new center "Cosmonautics and Aviation" at VDNKh officially opens its doors to visitors from tomorrow.
The press service of Roskosmos informs that this is a project implemented in cooperation with the VDNKh JSC, ORKK JSC, the military-industrial complex of the Russian Federation, the Government of Moscow, Rostec Group of Companies, PJSC UAC, etc.
From the message
press service
:
In the historic building - the famous pavilion "Cosmos", built in 1939 year, the creation of a unique world-class multifunctional exhibition and educational center is being completed. 28 enterprises of the rocket-space and aviation industries take part in the creation of the exposition. 118 exhibits have already been installed at the Center, including unique large-size mock-ups and full-scale samples of space technology - the Almaz automatic orbital station, the MIR orbital complex, rocket engines, the MAKS aerospace system, as well as the most significant projects of Russian cosmonautics . In addition, visitors can see a sample of the lunar soil of the GEOKHI RAS, delivered by the Soviet space station Luna-16 and Luna-20, as well as the Vostok descent vehicle, provided for temporary display - it was the first time in Russia was exhibited at the ROSCOSMOS exposition in the Multimedia Art Museum. The formation of a multimedia center for cosmonautics and aviation continues - ROSKOSMOS enterprises (Khrunichev Center, RCS, TsENKI, NPO Energomash, NII KP, NPO Lavochkina, RSC Energia) plan to transfer to the new museum a number of technological samples, components and assemblies of rocket and space technology.