The commission of Roscosmos State Corporation adopted the draft design of a new medium launch vehicle, Soyuz-5, reports
press office
corporations.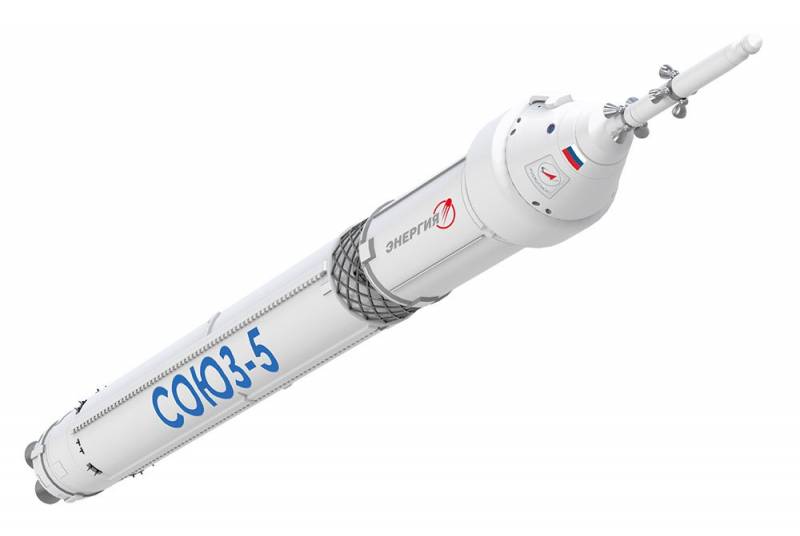 It is noted that the carrier will also be used "for testing the key elements of the space rocket complex of the super heavy class developed by RSC Energia".
According to the information, the documentation was "developed in cooperation with the RCC" Progress ", NPO Energomash, SIC RCP, KBKhA, NPTs AP, NPO automatics, branch of FSUE" TsENKI "- NIISK, TsNIImash, IPU RAS, TSNIISM, NPO Tekhnomash, IRZ , NPO IT, OKB "Spectr", "IRZ-Svyaz" and FSBEI of HE "Moscow Technological University" ".
The developers have done a large amount of design studies to determine the appearance and characteristics of the middle-class launch vehicle complex, which confirmed the possibility of launching manned transport ships up to 15,5 tons into Earth orbit, as well as automatic spacecraft launches (using an upper stage) into near-earth orbits and departure trajectories to the bodies of the solar system,
says release.
"Soyuz-5" is a two-stage middle class carrier rocket with a sequential arrangement of steps. Its production is planned at the RCC "Progress" in Samara.
The corporation brought some characteristics of the rocket: "the launch weight is about 530 t, the length of 61,87 m (with the Federation 65,9 m manned transport vehicle), the diameter of 4,1 m, the first stage engine - RD171MB, the second stage engine - RD0124MS. Fuel components: oxidizer - liquid oxygen, fuel - naphthyl. The mass of the payload being withdrawn to a low near-earth orbit from the BAYKONUR cosmodrome is about 18 tons. "