Militants are trying to disrupt the peace talks south of Damascus. A bus with journalists from the Russian Federation came under fire in Eastern Ghouta. Reports about it
FAN
with reference to Syrian sources.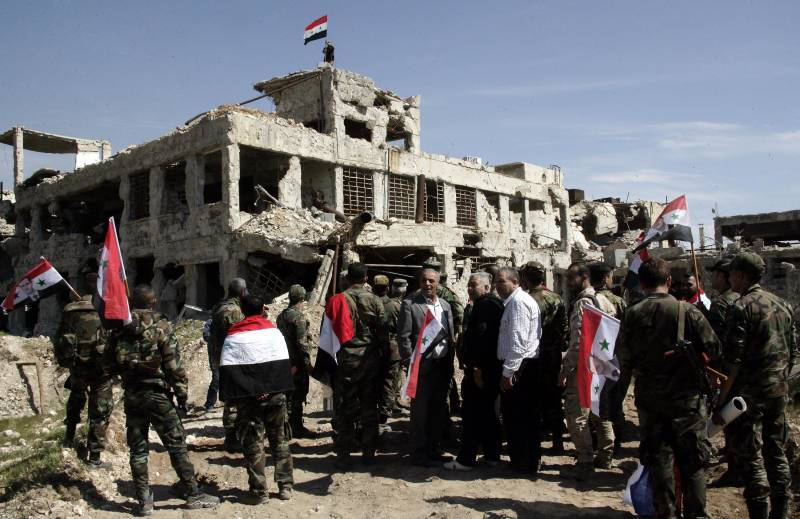 In the past 24 hours, the evacuation of the "Jaish Al-Islam" radicals from the city of Duma in the north-east of Damascus continued under an agreement concluded with the government of the SAR. Before leaving the village, the militants handed over all heavy weapons to government forces. The Syrian army continued to sweep the previously liberated areas. An underground tunnel of radicals was discovered and exploded in the Al-Kabun quarter. In the afternoon, south of the capital, an attempt was made on one of the CAA delegates, who were sent to negotiate peace with the Islamist armed opposition. The representative of the CAA by the name of Saleh Al-Khatib in serious condition was taken to hospital. In the evening, information appeared that officers of the Russian military police would arrive in Guta to support the government troops in maintaining law and order.
The bus with journalists from the Russian Federation came under fire from militants during their return from the territory of Eastern Guta. According to the Ministry of Defense of the Russian Federation, three people were slightly injured, they were taken to a nearby hospital.
Another group of militants "Jaish Al-Islam" (* banned in the Russian Federation), who were evacuated from Eastern Guta, arrived in Aleppo areas occupied by armed opposition forces. The radicals, together with their families, arrived at the city of Al-Bab as part of a peace agreement with the authorities of the UAR. After inspecting the militants were let into the city. Military aircraft and heavy SAA artillery were deployed to the air base at the administrative center of the region. According to local activists, ATS forces are preparing for possible attacks from the United States.
After the Pentagon's announcement of possible strikes against Syria, detachments of the Hezbollah's pro-Assad militia took their forces out of the military bases of Mintaqat Al-Qusayr and T-4, located in the west and east of Homs province.
Syrian morning
aviation
resumed air attacks in southern Idlib. The military facilities of Jebhat al-Nusra (* banned in the Russian Federation) near the settlements of Nakir, Sheikh Mustafa and Khan Sheikhun were hit. In addition, the SAR Air Force conducted combat sorties in the Al-Gaba plain, from where the Islamists fired at Latakia.