So, I think everyone agrees that the pressure in the Mediterranean cauldron gradually increases. And all bubbling bubbles are gradually divided into two halves. It is possible that the war of diplomacy and nerves will soon become a very real simple war.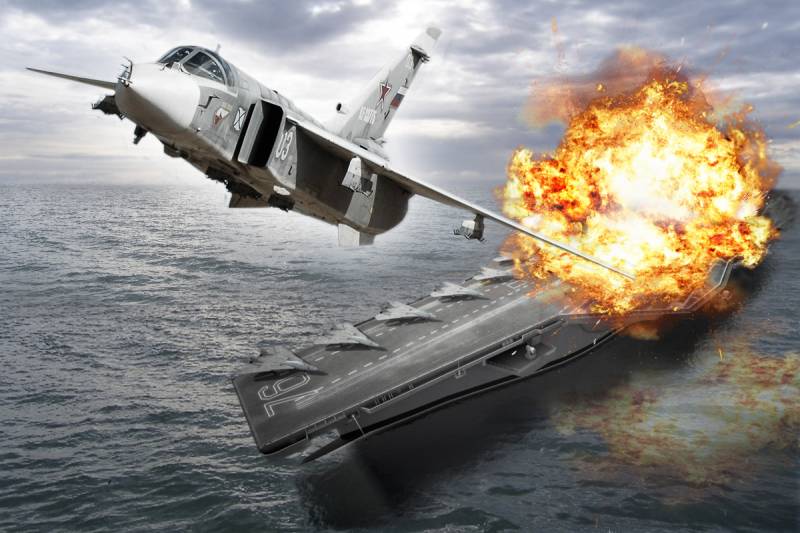 But before that at least two steps. The first is the US strike on Syria, announced and quite possible. There is something to hit, "Cook" and "Porter" are 120 "tomahawks". The second is Russia's hypothetical answer "in case of anything."
Start with the second.
Of course, the Internet has already boiled over on the topic "where is Su-24, right now we are of this" Cook! "Already (even in our midst), plans are being developed with might and main" how we will drown them ". The takeoffs of our strategic bombers and missile carriers from the runway in Engels, missile boats, banging the Caliber through Turkey and so on.
Restrictions in flight fantasy only because of age. Links - to the head of the General Staff of Russia.
Yes, Valery Gerasimov promised that "In the event of a life threatening, servicemen from Russia, the Armed Forces will respond [fire] effects both on the missiles and on the carriers who will use them."
For me personally, only one question remained unclear: are we embarking on a third world war or will we still confine ourselves to a local fuck for the interests of oil and gas concerns?
Third World would not want to. I can hardly imagine my great-grandchildren who hunt mutant hedgehogs somewhere near Semiluki ...
Speaking seriously, even two US destroyers already seem to be overkill. And that's why.
120 "axes" are 120 "axes." A serious figure, behind which stands a serious cruise missile. If we say that the States will not start - yes they will, they have, in general, nowhere to go.
Repulse from such a flock of means that are in Syria, we will not succeed. Not enough just these very means.
A retaliatory strike against the carriers (including) "in case of anything" is doubtful. No matter how much the patriots shout about it, it is doubtful, gentlemen. X-35, which seems to be in Hmeimim - good rockets. But in order to "Porter" or "Cook" fatally poplohelo, they need two. And better three.
With all this, the destroyer is magnificent
armory
platform. It is worth considering. And in terms of air defense, and in terms of electronic warfare. And, importantly, the range of the surveillance and suppression systems is much greater than that of any aircraft. Here, I hope, it is not worth explaining that His Majesty Watt rules the ball. And their (watt) engines of the destroyer number 4 will give many times more than the engines of the aircraft.
So do not repeat the doom about the blinded aircraft destroyer. In real combat conditions, the destroyer is more likely to blind the aircraft than vice versa. But it is in real. In the Internet space and not such miracles can happen.
In addition, even if it is hypothetical to assume that there is some kind of "wunderwatch" on Russian aircraft, capable of completely dazzling an entire destroyer (which actually is not), then there will be another such ship, if anything. And he is unlikely to stand and wait meekly until they blind him. We are not playing a computer game, are we? There are people at the console, and not idiots.
In addition, it is worth remembering the presence of a pile of air bases in the United States in the region. Let's walk past the bases in Italy, the Emirates, Saudi Arabia, Oman, Turkey. If there is an operation, do you think American planes will rise from these bases to cover their ships, or not?
Or will stupid Yankees calmly observe how Su-24 will "blind", and Su-34 to sink destroyers?
Of course they will. So, at least, it clearly follows from thousands of posts on the Internet. You can put a tick next to the "trolls are fed." A wave of hurray-idiocy swept over RuNet. Predicted and justified. And what else can be expected from the victims of the USE, who firmly believed in the ability of the bomber to blind and de-energize the whole destroyer?
But back to more serious topics. So, 120 "tomahawks." Trump just needs to run them. Unfortunately, Donald has only two paths in this political life. The first is to negotiate with the Russians. But at the same time, still wear the uniform of the Colonel of the SVR and hang up the Order for Services to the Fatherland. The second is to demonstrate that he does not want and will not be friends with the Russians.
So the "tomahawks" are likely to fly.
The main question: where?
It's not even about Asad, who, most likely, anywhere, just not in his palace. Bashar is a smart and pragmatic person. So either Hamme or Iran. Just in case.
All that Syria has valuable, in terms of the army, most likely already hanging out near our bases under a Russian umbrella. Wait, so to speak. Plus, in Damascus, our coordinators, advisers, diplomats and others from the list of Gerasimov. Ugly, of course, but - live shields.
The rest are actually following the example of merged (suddenly) Britons stocking up on popcorn and take seats in the auditorium.
The world is waiting for the continuation of the show.
And all participants just need to win. Losers here do not like. Although, in my opinion, the idea of ​​AUG - not the best. Heats up the stage, if in theatrical style. Well, why else planes, more ships, more "axes"? For whom?
For Asad? Oh no, he's not worth it. For the Russians? Sorry. I will give two examples.
Historical
. When one grenade, what's the difference how much is there
tanks
in front of the trenches, five or ten? One cover for sure. Here the only lottery question is tanks - who?
Natural. A pack of wolves chases a moose. Everyone is running, but what is the difference? The difference in the question. For wolves, it's a matter of food. For elk - a matter of life. No, for wolves it is also a matter of life, but not in the foreground. Therefore, they do not climb under the hooves, for the elk's hooves hitting - and here it is, the question of life arises on the edge.
I like the second one even more. Only in our universe, an elk, seemingly already hunted, can turn into a bear. With all that it implies. Because wolves need to be careful. And to avoid, and just in case.
We return to the "axes". They must start from the mines. And "hit" on Assad, and inflict damage to Putin. Show that "Volodya, you are not afraid!"
And here it is necessary to maintain a certain balance.
Another example. Wild West, a farmer in the evening raids on a dozen Gopnik. Everything is so transparently clear, the farmer says: guys, I understood everything. Here is my revolver, here in it are 6 charges. You ten. You are there to decide who will be the first and who will share the prey.
Pause.
No, the guys on the destroyers, in the cockpits of airplanes and helicopters, they are real vaspa. 100% Americans. Ready ... and all that. Almost Captains of America and so on.
I translate: nobody wants to be the first. No, those who are not lucky will scatter their brains on the windshield of their Sea Hawk or they will not have time to press the button of the Super Hornet's catapult. Although no, a real American will always have time.
But in terms of Russian - all that is.
Many words, yes, why all this?
As I see it, the easiest and most probable option is to plow the desert with "axes". As it was at that time. Minimum victims, maximum benefits.
"Axes" are spent - the blessing to manufacturers.
The Russians were not touched, the Russians did not shoot back. Everyone is alive.
On the other hand, Donnie's hosts showed that the Russians were turning like he wanted? Showed.
Thanks to everybody, you're free…
Well, two or three dozen Syrians ... Yes, they are all sentenced there, by and large.
And this warning to us from Trump, they say, you get ready there, smart missiles are flying - this can also be interpreted and translated in different ways. Let's see how this performance will end.
I think the next political zilch.
But this is for the best. In addition, to smash the whole world into dust, we, thank God and some people, are not yet ready.