Secretary of the National Security and Defense Council of Ukraine Oleksandr Turchynov decided to issue another version of what happened in February 2014 of the year in Ukraine. At the same time, Turchinov's version is clearly connected with an attempt to remove another participant in the coup d'état Arsen Avakov from the Maidan's political seats. In an interview
Gordon.ua
Turchinov said that in 2014, "he was going to organize the defense of the airfield in the Crimea."
Turchinov noted that then Avakov did not let him do this. At the same time, the ex-acting president of Ukraine declares that he would "crush" the Russian army ":
You know, with great pleasure I would have defeated Putin's army near Simferopol or Yalta, but for this it was necessary to have an efficient army. Unfortunately, we didn't have it then, but the fact that the blood was not shed ... Well, many diplomats, including those who professionally dealt with these issues, think differently ... I read an interview with the former Lithuanian ambassador Petras Vaitiekūnas which at that time was sent from the European Union to Crimea. In his interview, he emphasizes that the Crimea without blood became a salvation for Ukraine, because Putin needed a completely different — bloody — formula. He wanted bloodshed, civilian and Russian military deaths - then he would have received grounds for launching a full-scale war, and our European friends would recognize the conflict as mutual, as in Transnistria, Abkhazia or in South Ossetia.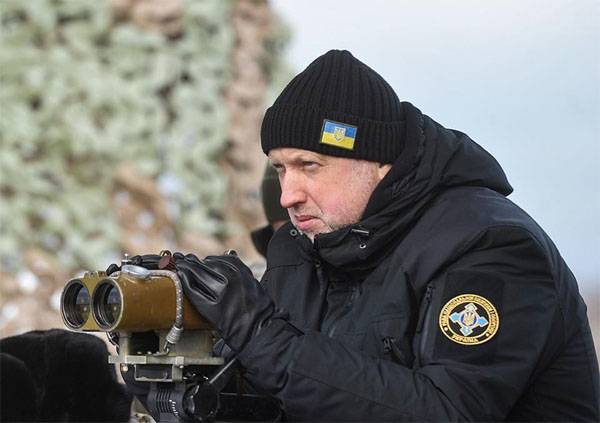 In his interview, Turchinov habitually spontaneously talks about "hundreds of thousands of Russian soldiers" who were allegedly ready to "seize mainland Ukraine." At the same time, the bloody pastor once again complained that Ukraine does not have a nuclear
weapons
.
Turchinov:
We had a third nuclear potential. We gave it in exchange for guarantees of our security and territorial integrity, which were provided to us by the leading nuclear powers: the United States, Great Britain and Russia. But the security guarantees given to Kiev are not even worth the paper on which they were written.
Does Turchinov want to say that he would have a nuclear briefcase in his 2014, he would press a button without thinking? ..