Robotic complexes "Uran-6" and "Uran-9" can be involved in the Victory Parade on Red Square, reports
Interfax
an informed source message.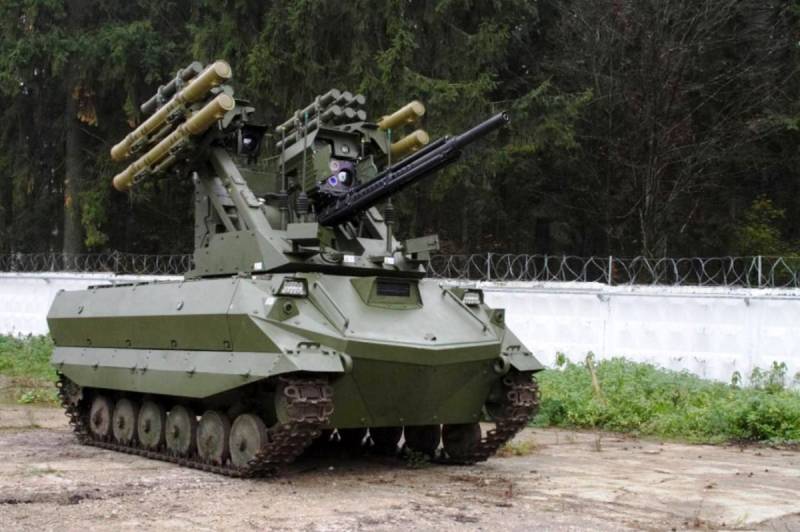 Robots recently arrived in Alabino to participate in rehearsals,
said the source.
Earlier it was reported that the newest Su-57 fighters will take part in the air part of the parade.
In addition, it became known about the participation of support vehicles in the parade on the main square of the country
tanks
"Terminator".
According to the commander-in-chief of the Land Forces, Oleg Salyukov, in total, the celebratory event "will involve 73 aircraft, more than 120 units of equipment and 12 thousands of servicemen."
Recently, the Russian military reported that the tests of "Uranium-9" will be completed by the end of this year.
The Uran-9 combat robotic complex is developed by 766 UPTK. It is designed to conduct reconnaissance, fire support and destruction of tanks. According to the developers, the complex "is capable of hitting targets at a distance of 5 km in the daytime and 3,5 km at night, it has 30-mm automatic gun 2А72, 7,62-mm machine gun, rocket flame throwers" Bumblebee M "and guided weapon complex" Attack "with anti-tank missiles."
"Uranium-6" is intended for demining urbanized areas of the terrain, as well as mountainous and low-weight areas. It was actively used in Syria, as well as in the North Caucasus.