Rosoboronexport JSC will present samples of modern weapons for the Ground Forces and the Navy at Defexpo India-2018
fleet
, Said
press office
company.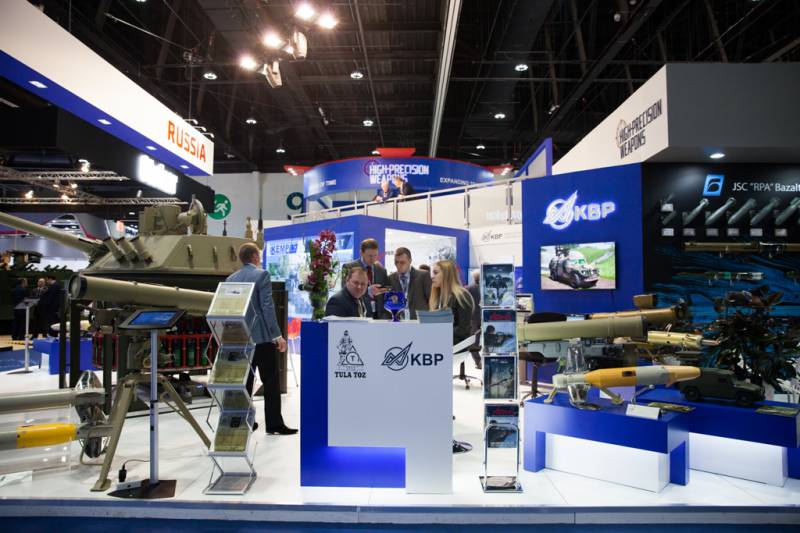 Participation in Defexpo India for Rosoboronexport is one of the most important marketing events of the year. We expect to discuss the prospects and the implementation of a number of important joint projects on more than 200 current key points in the field of military-technical cooperation between our countries. The subject of the exhibition is of particular interest to us, taking into account the fact that Russia occupies a significant share of the Indian market in the armament and military equipment segments for the navy and ground forces,
quoted by the press service of the deputy general director of the company Igor Sevastyanov.
Rosoboronexport presented more than 230 samples of Russian weapons and military equipment offered by the company for export.
It is reported that "the greatest prospects in the arms market of India and Southeast Asia
Tanks
T-90C and T-90MS, TOS-1A heavy flamethrower system, Kornet-E and Kornet-EM anti-tank missile systems, as well as the latest Kalashnikov assault rifles. "
Specialists are expected to pay special attention to the Pantsir-C1 air defense system and the Tor-M2E anti-aircraft complex.
In addition, the company "expects to see the great interest of foreign delegations in the 11356 frigate, frigates and patrol ships on the basis of the 11661 project, the anti-mine ship of the 12701 Alexandrite-E base zone, the 21301 project rescue ship, and a large diesel-electric submarine 636 project and Amur 1650 diesel-electric submarine. "
Recall that the 6 frigates of the 11356 project were ordered by the RF Ministry of Defense under two contracts from 2010-2011's. The project involved the use of x power plants manufactured by Zorya-Mashproekt (Ukraine). The first three ships received the engines on time, the supply of engines for the second three were blocked by the Ukrainian side. Currently, the corps of the second three frigates are launched, in the future they should receive Russian power plants.
The exhibition will be held from 11 to 14 April in Chennai, Tamil Nadu.