It seems that events are no longer rolling downhill. They rush at a gallop, not only gaining inertia, but again and again getting new impulses from someone's evil whip. And now it seems that tomorrow is war. Yes, not simple, but nuclear. Or gas "Novice" poison everyone. Or even some trick come up.
Admit it, keep track of all this is quite difficult. Especially to those who are trying to critically perceive what is happening and does not respond to each informational stuffing. But after all, hell, far from the information arena are not clowns, but the highest professionals of information wars, gurus of fanning and "poker face". Come on, figure out what has real value, and what is another rattle!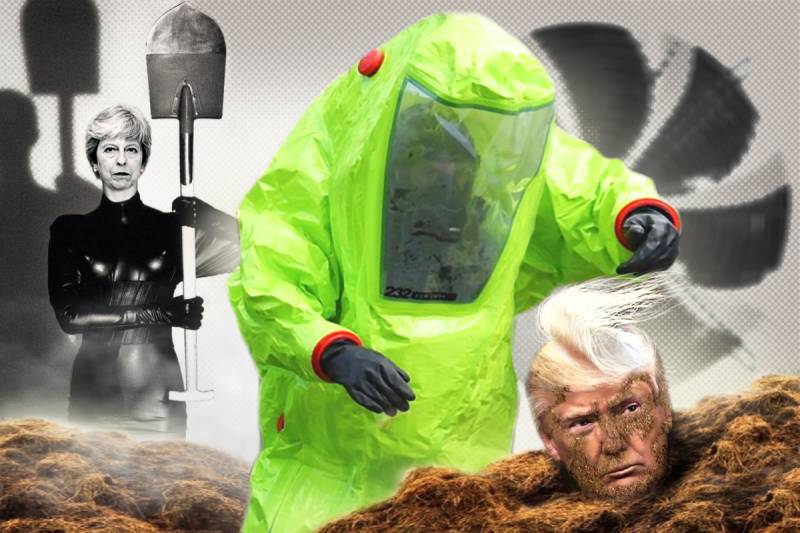 That is why I decided to react to everything that happens with a small personal heading, in which I will sometimes try to collect some moments that slip away from a quick reading
News
. Of course, they will have a value other than zero, and they will certainly help us get a little closer to understanding what is happening. I have not decided on the name of the rubric, and deep down I hope that creative readers will help me with their options.
So let's get started ...
Case of Skripal
There are in this case some oddities, which in themselves raise a lot of questions, and together they really cry out for closer examination by their specialized experts. Although they, most likely, have paid attention to all the oddities for a long time and are now searching for answers with all their might. But we, unfortunately, no one will say anything ...
Strangeness first. The "Poisoned" not only survived, but feel pretty good. Stupid Russian intelligence officers were so unprofessional that they could neither pick a good poison, nor its quantity. A nerve-paralytic toxin, in microscopic doses, capable of sending a person to the next world in a matter of minutes, was somehow very successfully neutralized this time.
No, seriously, judging by the telephone conversation between Julia Skripal and her cousin, she has no serious consequences whatsoever. Speech is normal, memory lapses are not observed, it very clearly distinguishes what can be said from what is better to remain silent. Not a man, but a terminator of some kind. Maybe she even had dry mouth? It's just humanly interesting what the English do toxins out there. You look, they will patent a new hangover remedy, people will thank them for it ...
But seriously, it looks very doubtful. Again, no interviews, much less press conferences. This is understandable: they can after all ask an unnecessary question, and the whole scam will reveal itself. My cousin didn't even get a visa to England - the FSB spy, still sniffing out anything. Therefore, "they were discharged, will soon receive American citizenship and will live under a different name".
I don't know if everything will be the same with Skrypalem-papa. He is, after all, a professional intelligence officer, albeit a spy. After additional coaching and training, it will be possible for the public to present it - the role will play well, under the victim and the miracle of the saved "zakosit" perfectly well.
Only the essence of this does not change - it turns out that there was no poisoning. It was just that everyone was forced to breathe the Fool gas while serious uncles do all sorts of cool things. And we can choose from only two options - either this is a pure statement of English intelligence, or ours really tried to poison Skrypal, but the British, through their agents, knew all the details of the operation and technically played out a half-successful "poisoning", so as not to substitute the blow of their "mole" .
The second option is extremely unpleasant. Because it is not so interesting how there British clowns in the European arena wriggle. But the "mole" in the Foreign Intelligence Service is an extremely problematic thing, threatening with enormous costs, including the military.
A little strained and intercepted (and read!) By the English encryption. More precisely, just two encryption. Of course, the circumstances of their interception are rather insane — Syria is reported to Moscow about the operation taking place in London! But it is not the insanity of argumentation that scares, the very fact of reading our encryption scares. Interestingly, do they have no codes for the self-destruction of our ballistic missiles?
I would not like to add panic paints to the defeatist palette, but I need to understand: the nineties will burp out of us for a long time, and it's better to perebdit in matters of protecting state secrets than to naively "believe in the best."
And here is another reason for reflection: the rocket attack of the Israeli air force in Syria.
On the one hand, everything is clear here: the "evil Israelis" seized the moment and "meanly struck in the back" to our allies. On the other hand, far from everything is clear!
Let us mentally answer one question: are the Israelites idiots? No, I am quite seriously, because the whole chain of our reasoning depends on the answer to this question.
If they are idiots, then everything is easy and simple. For idiots, it is quite logical to wait for the situation when another scandal with the mythical chemical
weapons
in Syria, and hit the base of the Syrian air force at a time when everyone is waiting for the American strike and, perhaps, the start of a full-scale war. Well, what's up? Just think, a nuclear war at your borders is a worldly matter that does not happen to anyone!
If we do not consider the leadership of Israel a bunch of idiots, everything becomes much more complicated and interesting.
First of all, wasn't the strike agreed with the Trump administration a little way of delaying the American reaction to the provocation in Eastern Gute, so that the hotheads in Washington would cool down a bit and the time to swing the question appeared?
Looks pretty logical. At first, uncertainty - like the Americans struck. Then a refutation. Analysis. Trump states that the reaction is sure to be, but after forty-eight hours. The aircraft carrier was sent to the Mediterranean Sea - until it comes, another day or so others will win.
And then, of course, hit. With all my might. For some empty airbase. And in the areas of contact of the Syrian army with the militants. In the trenches and dugouts. Empty And somehow, so that the routes of the missiles went away from the positions of Russian air defense.
No, it is clear that someone will still be killed. And our, of course, something still shot down.
But at that calm down. Because there were already a million opportunities to start a war. And if they have not yet begun, then desires do not seem to exist.
Secondly, I wouldn't be surprised if Israeli intelligence services became intermediaries between Trump and Russia. No, of course, we are not talking about the transfer of encryption at both ends. But such delicate moments may well be realized, bypassing the guys from the CIA: they are too unreliable and you never know what they will tell later at the congressional hearings.
And to interact with the Israelis, Trump has a native daughter, who has long accepted Judaism. And the son-in-law is also a Jew. And even though they are not citizens of Israel, you can not doubt for a second that for the Israeli leadership and special services they are the most trusted persons in the whole wide world. For Pope Donald, too. So much for the canal ...
Well, the last thing I would like to mention today is the situation with the arrest of Russian courts by the Ukrainian junta.
On the one hand, this is expected and even natural. Provocations before the World Championships are rampant, and Washington's loyal vassals are rushing to contribute. Surely they will be crap and more, and even with tripled force.
The problem is that they are, in general, logical and even honest. And we, unfortunately, mummy and pyatimsya. Starting with the recognition of the results of the presidential elections in Kiev, we are walking on a rake. And now, rubbing another bump, we are screaming again: oh, what a terrible rake!
No, the rake is normal. We would simply not walk on them. Do not recognize Poroshenko, curtail economic cooperation, impose counter sanctions ... And it's better not even counterclaims, but those that the United States imposed on Cuba are total, with sanctions against companies leading with Havana, trade indefinitely, until the regime in the country is completely satisfy.
It was then, perhaps, that we could demand something from the captains of the ships calling at Ukrainian ports. And now it is even strange - Gazprom is possible, Sberbank is possible, but the captain cannot?
Therefore, we stock up with green paint - gloss over the forehead broken by a rake. Because within the framework of our chosen strategy, we simply do not have any other answers.