Today, the Russian president, according to the Kremlin press service, will hold a meeting with the head of government, Dmitry Medvedev. The meeting of the president and the prime minister is traditionally held a day before Medvedev's speech with the report to the Russian parliament. However, in this case, it causes great interest. Why?
Not only due to the fact that tomorrow Medvedev will report to the deputies on the recent work as head of government, but also in connection with the May events on the formation of a new cabinet after the inauguration of the elected president. How much this office will be new, many experts are now trying to guess.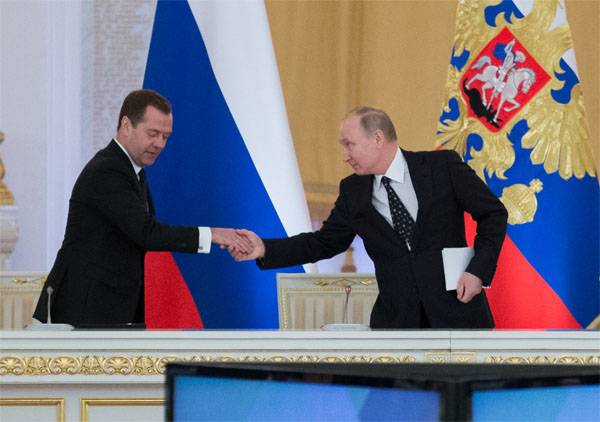 Also the question is whether Vladimir Putin will leave Dmitry Medvedev himself in his current post or not? Given the fact that the statistical reports demonstrate a new surge in television activity (on the country's largest channels) to cover Medvedev's work in the premiership, it can be assumed that the current Prime Minister continues to be one of the main potential candidates for the new premiership. Federal channels have clearly increased the volume of information broadcasting, given under the coverage of Medvedev's activities, in comparison, for example, with the period preceding the presidential elections.
Against this background, the media activity on the same federal TV channels of other likely "candidates" for the premiership has clearly diminished. If we talk about those who until recently acted as a candidate for the presidency, then their informational activity on the main channels of the country is completely reduced to zero.
The fact that under what "sauce" tomorrow Dmitry Medvedev will deliver a speech to representatives of the country's parliament will tell a lot about the political future of the current prime minister.