Russia's Permanent Representative to the UN, Vasily Nebenzya, during a meeting of the United Nations Security Council, said that in the event of an American attack on Syria, in which Russian troops could suffer, "the United States will have grave consequences."
From the statement of the Russian diplomat:
Through the appropriate channels, we have already conveyed to the American side that military actions under false pretexts against Syria, where, at the request of the legitimate government of this country, there are Russian servicemen, can lead to the most serious consequences. I advise you to restrain hawkish rhetoric and stop reckless tendencies that challenge global security. I should add that nobody authorized the Western leaders to take on the role of world gendarmes.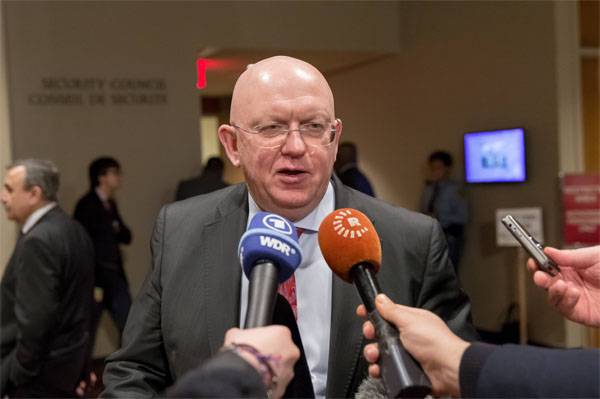 At the same time, Vasily Nebenzia noted that Western accusations are once again based on outright lies. The Russian Permanent Representative to the UN has said that Western leaders are shouting about the use of chemical
weapons
in Eastern Gute, they declare some photographs of the victims, while no one has yet seen these victims, and has not provided any photographs. Unless, of course, you count the photos of the same girl, who are wearing different "white girls" in the same clothes in different provinces of Syria — they were worn in Aleppo and Idlib, now they are worn in the suburbs of the Syrian capital. Apparently, this girl is "the main goal of the bloody Assad," as already responded on the Web.
Vasily Nebenzya:
The West decided to use an arsenal of tools and techniques that did not exist even during the Cold War. Shamelessly threaten Russia. The tone in which this is done has crossed the permissible limits.
According to the Russian permanent representative to the UN, "writings" about the allegedly widespread use of chemical weapons — from Salisbury to Eastern Guta — become an instrument for achieving the true goals of the West — delegitimizing Russia. But this attempt will fail.
At the same time, yesterday's blow to the SAR by the planes of the Israeli Air Force was not accented.