Ukrainian military personnel of special operations forces completed training as part of course training at the United University MTR United States (JSOU) in the state of Florida. Course duration was exactly 2 weeks. Representatives of JSOU, who taught Ukrainian officers tactical and strategic planning operations to NATO standards, acted as teachers.
From the message of the General Staff of the Armed Forces of Ukraine:
There are many obstacles to the integration of the Armed Forces of Ukraine in NATO, such as the legal component, modern equipment and armaments, the divergence of the organizational and staff structures of the units and the like. But an equally important element is the compatibility of standards and planning procedures with joint actions. Therefore, the command of the Special Operations Forces of the Armed Forces of Ukraine, in cooperation with representatives of the Joint University of the Special Operations Forces University (Florida), initiated operational planning courses for officers of the command headquarters and subordinate military units of the SSVF of the Armed Forces of Ukraine.
In particular, American professors demonstrated the capabilities of US unmanned vehicles. At one of the lectures there was a discussion of the format of the use of the American reconnaissance-impact UAV MQ-9 Reaper.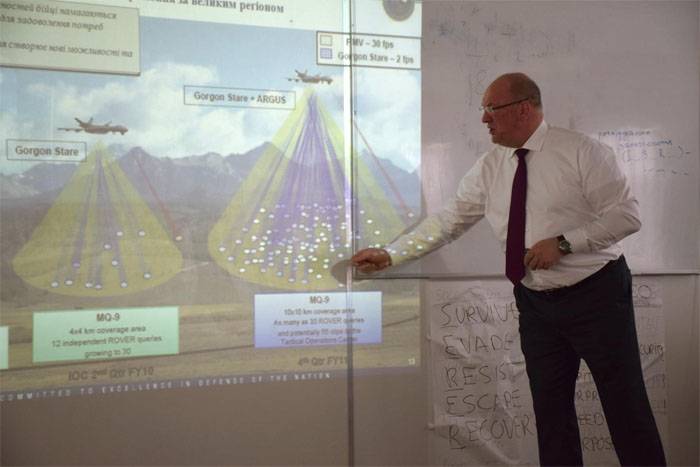 From this we can conclude that the United States plans to continue to provide the Ukrainian Armed Forces with data from its unmanned reconnaissance and percussion means for planning special operations. It is not difficult to guess what territory for the attempt to implement these operations can be discussed.
There was also a lecture from the "Traditional Support" series, when an American teacher told Ukrainian "cadets" about the interdependence of various departments in the implementation of the planned headquarters operation.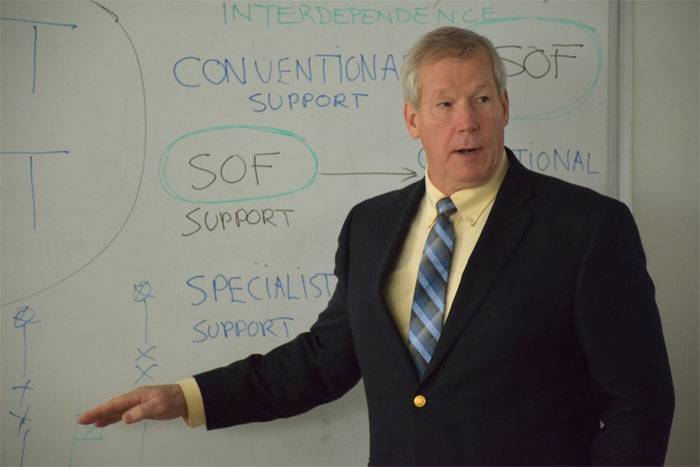 Ukrainian military servicemen passed an examination on drawing up an algorithm that provides for cases of actions when planning special operations. The algorithm was supposed to suggest options for requesting support funds to complete the mission, as well as cases in which the mission can be folded. Among the reasons for the interruption of the operation, as the algorithm in the photo shows, is a "blackout" (accident in the power system).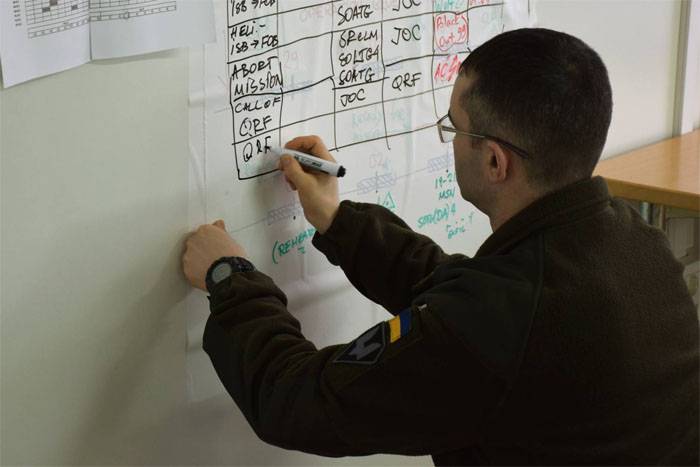 Command MTR of Ukraine:
During the course, the participants gained theoretical knowledge and practical skills in planning special operations on NATO standards and procedures. According to the Roadmap of the formation and development of the Special Operations Forces of the Armed Forces of Ukraine, during 2018-2020, the acquisition of full operational and combat capabilities, completion of re-equipment of military units and subdivisions with the latest weapons and military equipment, as well as the completion of conversion of secondary defense forces to NATO standards is planned.