The Kudrinsky Committee of Civil Initiatives (OIG) presented its "results" of the 2018 presidential race of the year in Russia. The results also relate to the so-called coefficient of competition during the election campaign. The report was prepared by the OIG experts Alexander Kynev, Arkady Lyubarev and Andrey Maximov. These experts recognized the fact of a high turnout in the past elections, while declaring that 2018 elections were the most "uncompetitive" in all recent years.
Of
material
:
For the first time, the winner received more than half of the list of voters (51,8%). However, such consolidation is accompanied by a decrease in the competition of candidates in elections, which is fixed by the Laakso-Taagepery index, including the one that is provided with errors in the election campaigns of the main opposition candidates.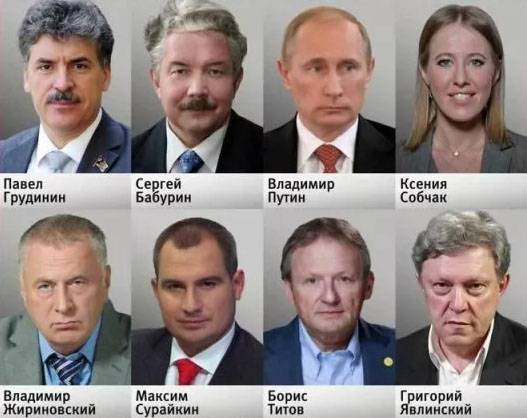 What is the index?
It shows not a specific number of election participants, but an abstract indicator of the "efficiency of candidates' competitiveness". To simplify, we can give an example: if two people participate in the elections, one of them has a rating indicator higher than 80%, then the OIG mentioned index will be close to one. That is, the index says that if there are two candidates, one actually participates in the elections (plus or minus the stat-probability for the other).
Mathematical technology for calculating the index is described in terms of "sum of squares and double rows", including rating points. As a result, the OIG calculated that the March 18 election competition index was 1,62, which is the lowest result for
history
presidential election in Russia. For example, in 2008, the indicator was 1,82, and in 2004 - 1,74.
All of these indexes used actually look like ordinary noise. Moreover, it is not entirely clear what is the purpose of presenting the above data by the OIG experts? It is clear that in this election there was a clear favorite, a couple of more or less solid competitors and several outspoken candidates for nothing. That is why the Russians and without calculating the "smart" coefficients represented the level of competition. Or is there real competition in "true democracy" countries?