The so-called Syrian Observatory for Human Rights, whose office is located in London, publishes a message referring to its own sources in Syria. These sources reported to the British capital that 4 people were the victims of a rocket attack on the T-14 airbase in the Syrian province of Homs, several dozen were injured.
The material, which is published, including the Israeli newspaper Haaretz, states that among those killed at the T-4 airbase are Iranian citizens. Whether it is about the Iranian military, not reported.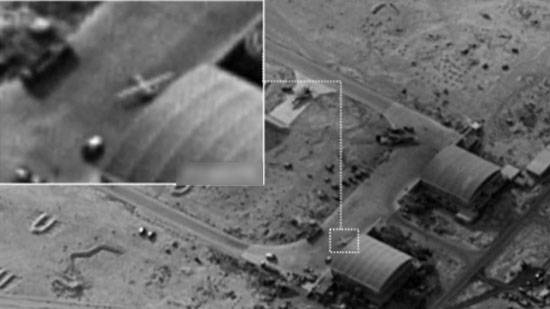 Meanwhile, experts continue to discuss the question of who struck at one of the largest military air bases in Syria. Currently the main versions are: Israel, France and the USA. At the same time, the United States, as is known, denies any involvement in the missile attack on the Syrian military base, and the command of the Israel Defense Forces refuses to comment.
Recall that on the eve of the presidents of the United States and France discussed the question of a response to the alleged use of chemical weapons CAA in the city of Duma - a suburb of Damascus. At the same time, Israel has repeatedly threatened that it is ready to destroy the Iranian military infrastructure, which will appear on Syrian territory.
A possible answer to the question of who attacked the T-4 can be given by analyzing eight missiles shot down by air defense weapons.
Earlier it was reported that rockets could be produced from an "unidentified" ship in the eastern Mediterranean. The route of passage of missiles, as stated by Lebanese sources, lay over the area Kiservan (Lebanon). At the same time, the Lebanese media reported that at the time of the attack on the T-4 in the air, air defense systems detected the activity of Israeli aircraft.