The presidents of the United States and France agreed to coordinate actions in connection with the "chemical attack" in the Damascus suburb - the Duma. Trump and Macron discussed the "chemical attack", allegedly carried out by the Syrian government army and issued a joint appeal.
Clearly realizing that the provocation of Skripale's fake poisoning "Novice" in Britain fails miserably, the West is trying to create another dominant in order to divert public attention from the scandal with statements by the British authorities about the "incident" in Salisbury. At the same time, according to Western tradition, the dominant is again associated with chemical weapons and fakes about its use. The test tube is not shaken, but they are talking about an emergency meeting of the Security Council.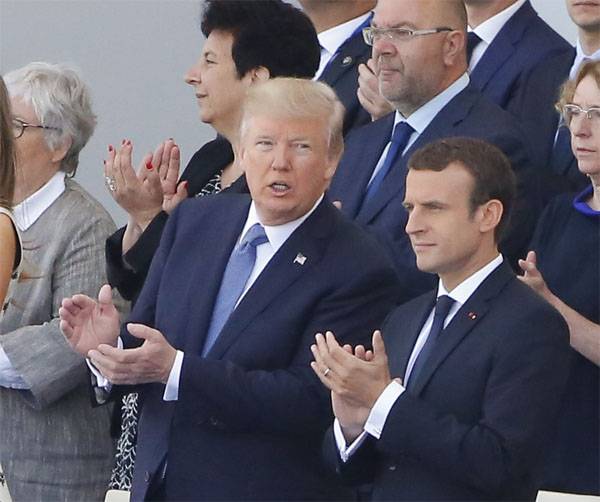 From the official report of the Elysée Palace:
President Emmanuel Macron met on April 8 of the year 2018 with the President of the United States of America on the situation in Syria. The President of the French Republic condemned the 7 chemical attacks of April against the population of the Duma in Eastern Gute with extreme firmness.
Added:
The President of the Republic and the President of the United States of America exchanged information and analytics confirming the use of chemical
weapons
. They instructed their teams to deepen exchanges in the coming days.
They also decided to coordinate their actions and initiatives within the framework of the United Nations Security Council on Monday, April 9 in New York, to condemn the non-compliance with resolution 2401, as well as on the reuse of chemical weapons. All responsibilities in this area should be clearly established.
Both presidents agreed to maintain close contact and talk again with each other over the next 48 hours.
Earlier, the commander of the focal point of the Russian Federation for reconciliation of the warring parties in Syria denied allegations that chemical weapons were used in Eastern Guta. It was also stated that international experts would be able to arrive in Eastern Guta for research at any time convenient for them - after the complete destruction of the militant group carried out by the CAA by conventional means.
Recall that the western fake about the alleged use of the CAA chemical weapons appeared exactly at the very moment when the last relatively large group of terrorists "Jaish al-Islam" (* banned in the Russian Federation) was completely surrounded in the suburbs of Damascus Douma.