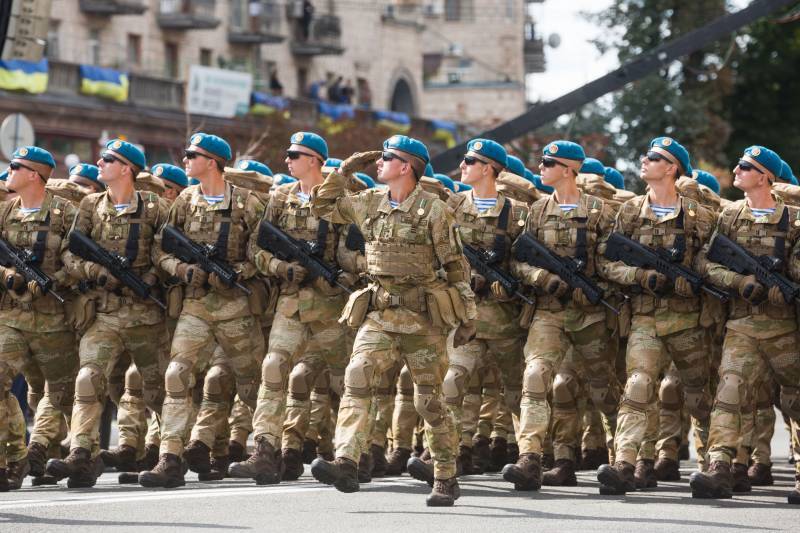 Greetings to you, dear friends and girlfriends! All my family cockroaches rebelled. And the main thing they have is the homegrown Makhno and the food terrorist. I cooked soup. Instead of borscht.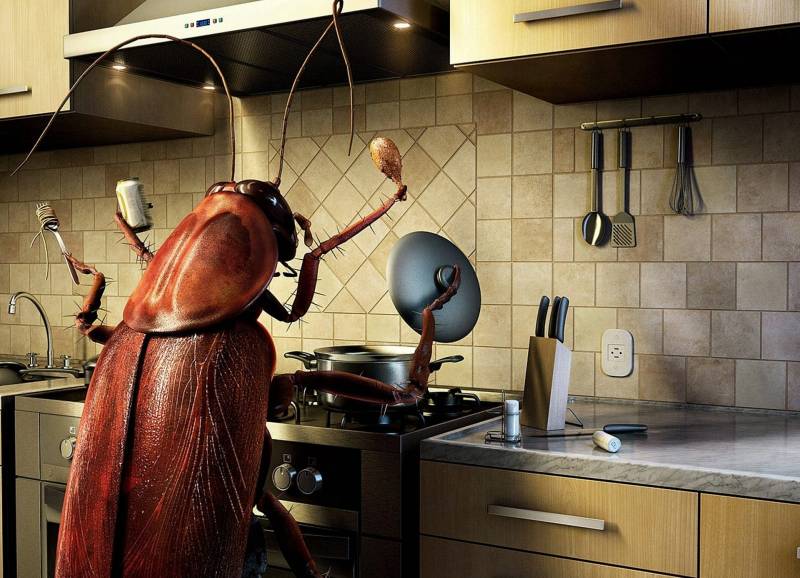 And the slogans of the revolutionaries know? "Colorado, climb out of the crypt!", "Ukraine is not a graveyard!", "Readers are not to blame for your bad mood!" and stuff like that.
I have not quoted my grandfather with oral folk art. Revision will not miss. In short, now I work under universal control.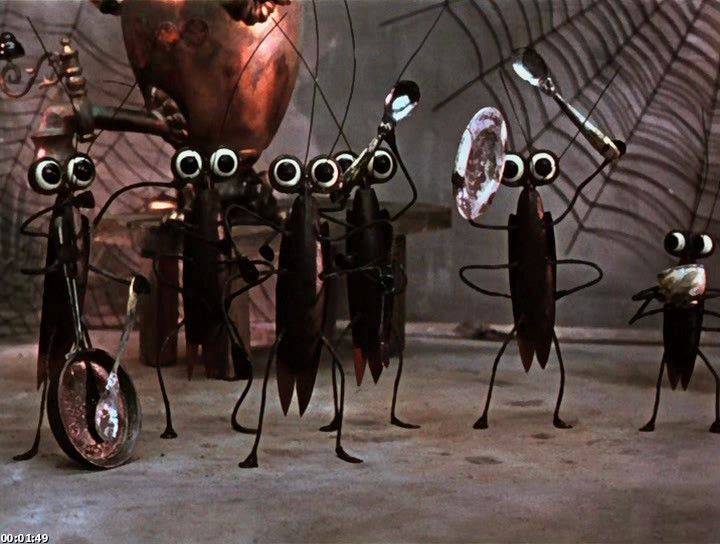 Do you know what is the biggest problem in Ukraine today? I must say, you're all wrong! Our main problem is to choose a doctor. Also a democracy. Whom I want, I choose. I want a therapist, I want a urologist. And I want - a gynecologist. I did not write about the latter. Cockroach in the framework of the sanctions tried.
In short, we started this very campaign of election of a personal doctor. Previously, the scoop was. You come to the clinic and, if you know what hurts you, ask for a ticket to a specialist. And if "something hurts right here," then, accordingly, to the therapist.
That's it. We are Europe. Now only my doctor knows about my illness. He will direct where necessary.
My grandfather is a Stakhanovist. In the first ranks rushed to the clinic to be recorded.
Signed up. Only these very declarations are not there. Only copies give. And a copy without the original is called a diploma. Yes, and the choice out there offered easier nowhere. Sign or not sign. There are no other doctors anyway. Or not at all ...
I read here the message of our Minister about 12,5 thousands already enrolled in the first day. I decided to surprise not so much Russians as countrymen. 12,5 thousand per day, population 40 million. Poking into the calculator ... 40 million per 12,5 thousand ... Total 3200 days. Through 8 and a half years we will be covered by medicine! And everyone will have their own doctor! "Shche not killed Ukraine-a-a" ...
And on the other hand. You humans, how many millions of times more microbe? Especially descendants of the Sumerians. Therefore, a normal pure Sumer cannot get sick from some invisible nano-organisms there! So, all this Soviet medicine is a pure divorce for cotton! Heroes are not afraid of germs! SUGS twice with a jump!
The only thing I did not take into account: microbes have no eyes. And they can not read. Savages, in a word. That "mow" Ukrainians, like a good reaper. Since the beginning of the year, almost 10 000 people have measles. Two children and five adults have already died. We, of course, tolerate. Medical reform will pick up the course, and then trample ... But that's where?
We have ended the heating season. You can say - finally! Almost all houses are already disconnected from the heating. This is not the weather to blame, but, as always, Russia. From the first days of the month, gas imports have dropped several times.
Just for understanding what the real spring is. 31 March we imported 30,8 million cubic meters. m (Slovakia 16,6 mln., Hungary 11,2 mln., Poland 3 mln.), then already 1 April - total 5,1 mln. cubic meters. m (Slovakia 1,2 million, Hungary 3,7 million, Poland 0,2 million).
One helped - spring has come! 15-17 is above zero - this is encouraging. While you can not think about our Santa Claus-Miller.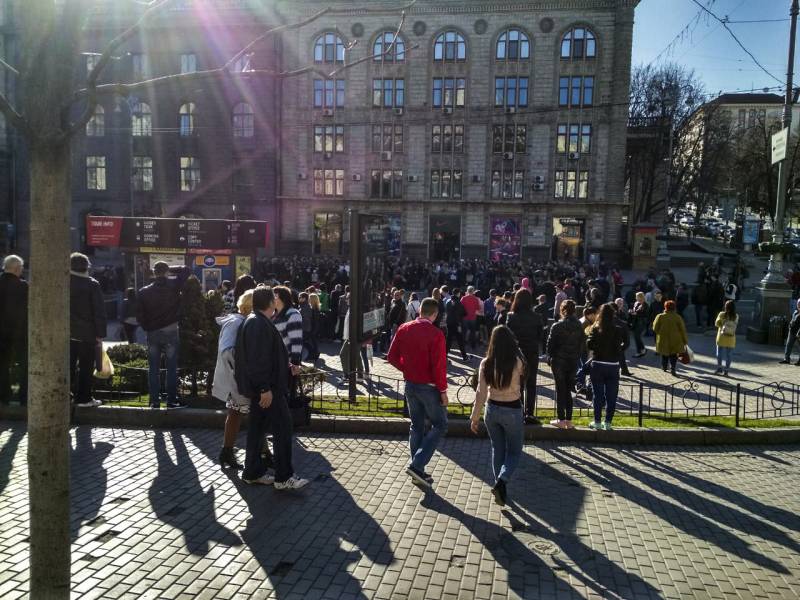 Say, where does Russia? In the list it seems not. So we think. It only cost Gazprom to refuse to sell us gas, and at the same time our best friends did not want anything either. To some began to reach. Already even I was asked about pumping gas through one pipe in opposite directions at the same time.
But still smart people in our government! Right wherever you look - a genius at the genius and the genius chases. It is necessary to be so prudent. Even 4 a year ago, they knew what would happen such a situation. They shut down all these numerous "Nitrogen", plants and other unnecessary European country nonsense. Now there is no gas and "well, nothing." And you can be heated and dung ...
But the topic of gas has already tired you. But the Ukrainian genius extends to petroleum products, for example. Ukrtatnafta proposed to introduce quotas for the import of gasoline. To, then, I do not want to load my plants. It is understandable. Belarusians drive us cheap gasoline and solarium. And ours are bent from unemployment.
1 April, the day of laughter, guess who mocked the most? That's right, the one who made a working visit to the war zone! Under the mines, shells, bullets snipers! Just so heroically went to Mariupol to the church. So proudly went. I talked with believers. And then the local priest they are already tired, I guess.
That is our dear Hydrant!
Then he went to Volnovakha! Still, your Putin has a bad effect on our Hydrant. From him went these trips around the country and meeting with the people. So, the president went to Volnovakha to tell the people how he and Merkel and Macron "killed" Putin. So he signed a statement on the truce!
And then in Volnovakha people do not know who is fighting with anyone in the Donbas. Foolishly think that on that side are Donetsk and Lugansk men.
And then Poroshenko went to football! In Mariupol. Our Dynamo has arrived. On the "government platform", next to the children of Mariupol. Who knows, these eastern ukrov. And so, they will not blow up their children, and they will be afraid to shoot.
Everything seemed to be good. Dynamo won 3-2. But not watched the security service. Right in front of the face of the president's face, fans dragged the "Suitcase, train station, Maldives" banner.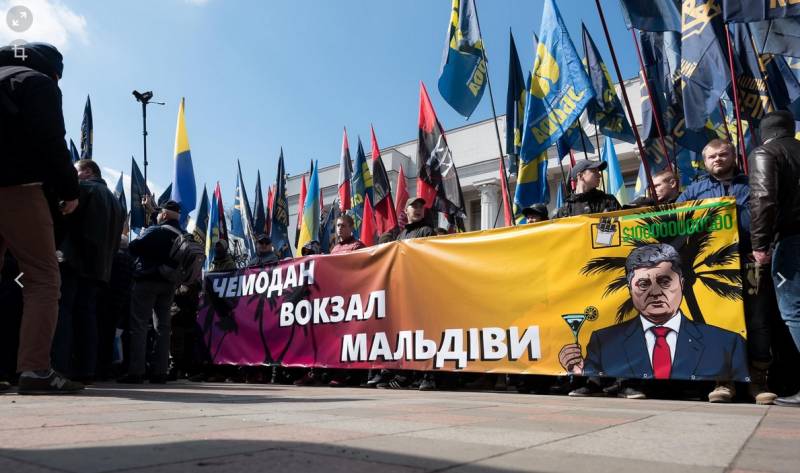 And when the guards tried to detain the initiators, the fans also piled on the police to the fullest. 9 people were sent to the hospital. In short, in this match Kiev residents looked better than the team on the field. 9-0! All went home, without detention!
Yes, I read a lot about the detention of your fishing vessel. Well, we have freaked out. More precisely you. Or they. It's hard to say who.
But in general, we are acting purely in your spirit. It seems to have delayed the team, but it seems not. Like the Ukrainians, and like the Russians. It seems in international waters, and it seems in ours. It seems the court was appointed, and it seems like administrative protocols issued about the violation. Suffer now ...
Yes, and do not try to run into our fleet. Soon, friends from America will give us a couple of boats. American! Those that were promised a couple of years ago. And notice, for free! These are friends.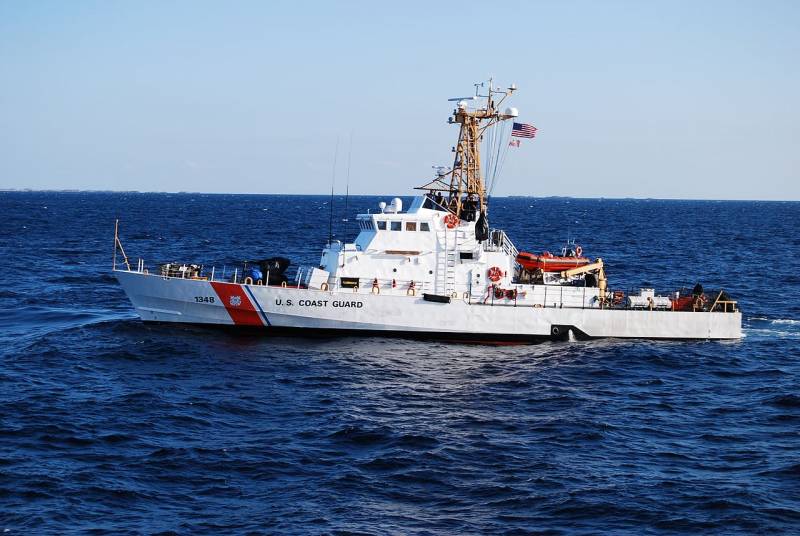 "The US is now expected to report on the timing of the final conference on the development of the basic terms of the contract, during which it is planned to determine the final cost of the associated costs associated with the transfer of boats, and the timing of the work."
Waiting for our border guards are the newest Island-type patrol boats. So what that was produced from 1985-th to 1992-th years. And so what is written off in 2014? They are "mad in" not with us! Here we will drive yours on the Black Sea! We would have to add some racquet there ...
Something Soviet musketeers remembered. How many swords do we have? Four! And how many muskets? Four! So who are we? Hmm, the Ukrainian Navy ...
Notice that I don't mention the next march of nationalists? We got used to it. Well, wander around the center of almost 6 thousand assholes. Well, they are guarded by one and a half thousand others. So what? I was here at the occupation museum, you know. Accurately copy the methods of the Bolsheviks. Class enemy found. There were fists, oligarchs here. We are waiting for the triples to start working.
And further. Sergey (svp67), I will fulfill your request. In my own way. Attaching photo. Normally we have both prices and goods. The main thing with regards to her, darling, is less than 100 hryvnia for 0,7 not to take. Dangerously.
As for the rest, see for yourself. I visited one market here. Quality, of course, is not a fountain, but prices and goods can be disassembled. Guards, woodlouse under her feet, alert. In the market you need to buy, and not click the camera.
And with firefighters, we have exactly the same as you. Those malls that are built specifically, quite a safe. And those that are rebuilt ... But after your tragedy, their wool is grown-up. We had the same thoughts in our heads as from a mirror.
Well, to set you up. In Ukraine, there are no more airborne! We no longer have airborne or highly mobile troops. Abbreviation of the Airborne Forces, you see, caused negative associations with the Russian army.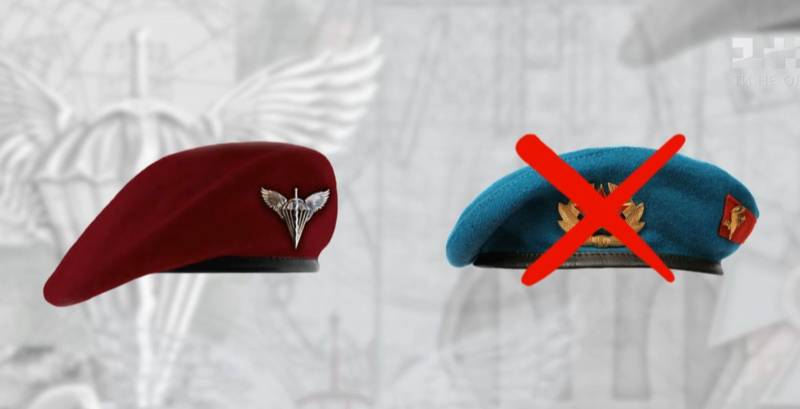 "The Verkhovna Rada made some changes to Ukraine's defense laws on air assault troops. The draft law No. 7330 supported 236 of people's deputies at a meeting on Thursday, April 5. The law changes the name of the branch of service to Highly Mobile Airborne Forces (Airborne Forces) to" Airborne Troops assault troops. "
"Given the above, it is considered expedient to change the name of the highly mobile assault troops of the Armed Forces of Ukraine to the assault landing troops of the Armed Forces of Ukraine."
Well, "forgive enough", blue beret and vest. Moronic noisy troops will be wearing spotted berets. Like all "civilized humanity." It is right. Where our former airborne forces are fighting, the krapovy beret is indeed more appropriate. Traditionally, in the Soviet way.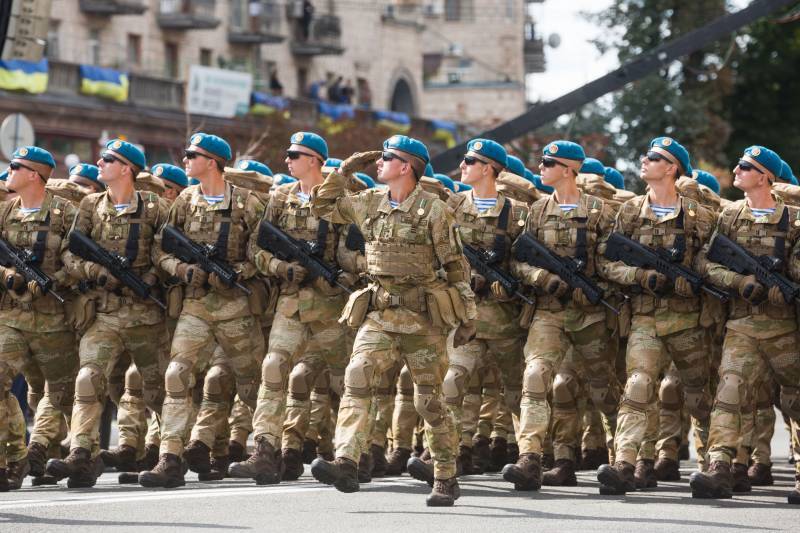 This is a uncommunicated past.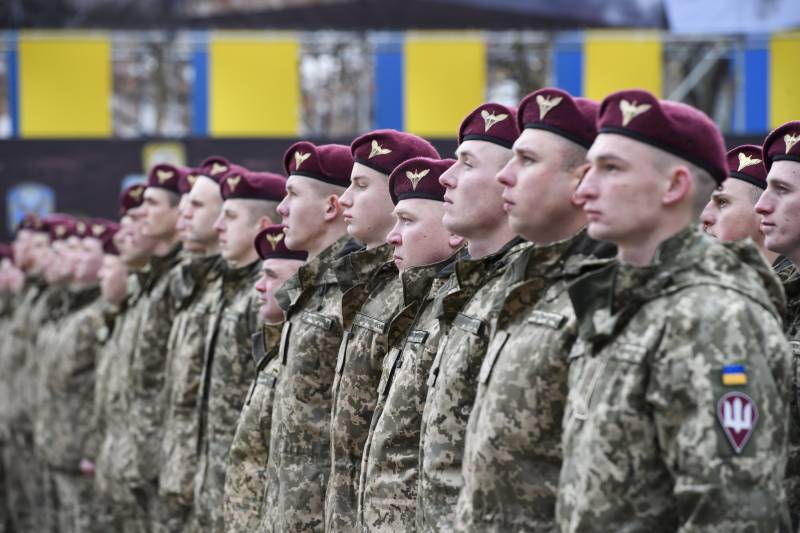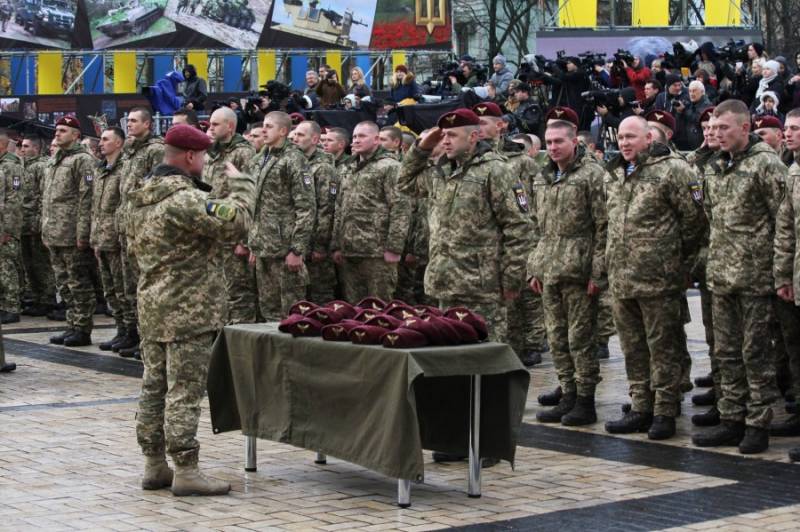 And this is Square present.
In general, they had to be called equestrian underwater. So it would be even more logical. Airborne Forces - airborne troops.
Aviation
not. So you can in the assault. And if they do not storm anything? Do we have horses? There is! Are there any connections? There is! Here you have horse-drawn submarine troops ...
I wonder why Rada is always limited to half measures? Fuck us this is a foreign name - the president? There is a classic Ukrainian - hetman. Why? Getman of Ukraine Petro Poroshenko. And mace to always carry with him. What is she in his office gathering dust?
My neighbor from the former paratroopers reacted. "So the nickname got shameful: DESHEVKI!". But right, damn. I will add another reason why it was just necessary to change the name. Correctly in Ukrainian "airborne" will be "poivryanno" troops. PDV!
And considering that many citizens of Ukraine once worked in hazardous industries, the MPE for them stands for "maximum permissible emissions" of harmful substances. Causes negative associations with life in Ukraine.
So everything, we don't have any sweaty-dovitryany troops.
And for the mood I will tell you how we invented golf. Most Ukrainians even do not remember this. And it was like that. Cossacks sent junks to plant potatoes in spring. Those, while practicing with the checkers on the field, dug holes. Apparently, invisible.
And plant potatoes too lazy. They took the Cossacks curved snag and let the potatoes get into the wells. The one who comes immediately is a respected person. Sits by the bag and gorilka drinks. Well, those who missed, run to finish off. And then come the halves and nastuchat horns for poor performance.
You ask why no one knows about this? Have you seen a Cossack standing on other people's fields in a pose of cancer? That's it. Independence and pride do not allow us to do this. Or not allowed?
That's all. Happy Easter to all of you! May God give you happiness, health and understanding of others! 50 celebration days are coming! Truly a great holiday! See you, friends!