The Russian Defense Ministry has published photographs of aerial photographs confirming the destruction of the Syrian Raqqi neighborhoods as a result of the bombing of an international coalition led by the United States, the ministry said.
The Ministry of Defense of Russia published photographs of aerial photography confirming the catastrophic destruction of the city blocks of the city of Raqqi, caused by the bombing of the coalition. Destroyed most residential buildings, hospitals, mosques, schools and livelihoods
- the report says.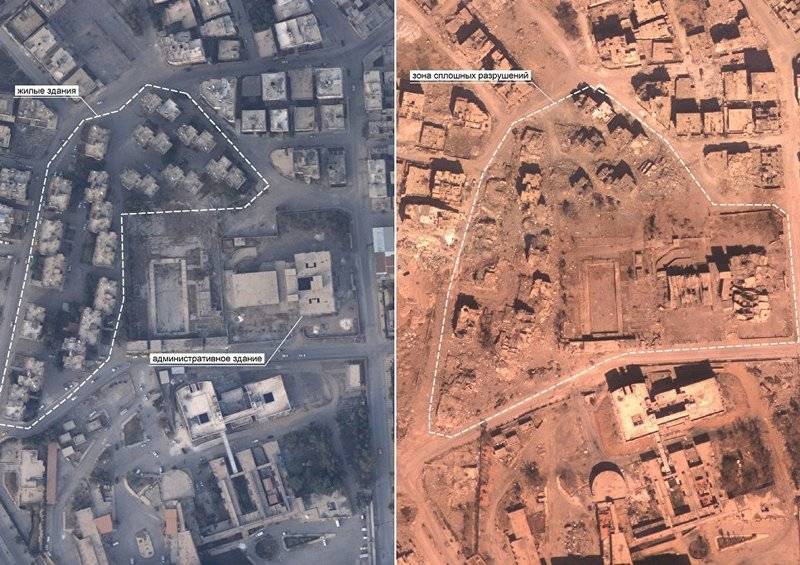 As noted, the humanitarian situation in Raqqa remains very complicated, and the access of humanitarian missions to the city is difficult. Thus, from October 2017 to March 2018, among those who returned to the city were 658 injuries from explosions, 130 people died. Every week, 25-30 is recorded cases of undermining civilians.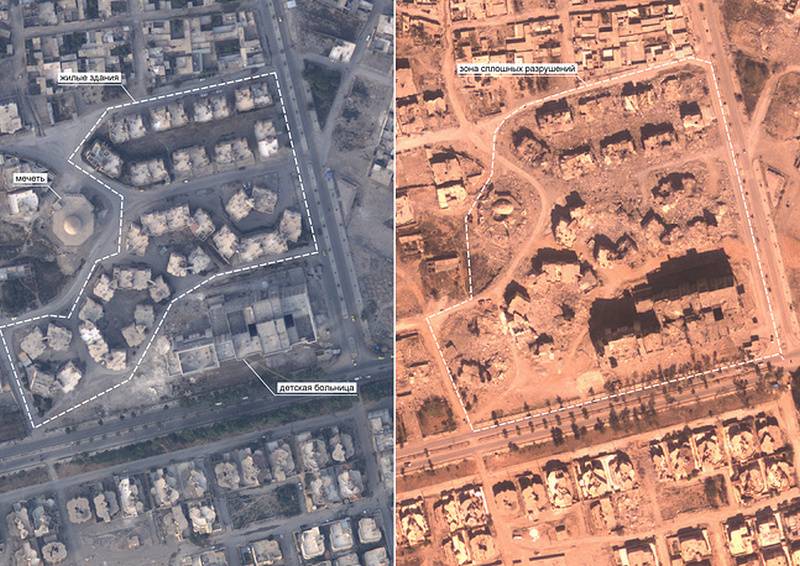 As a result of the bombing of coalition forces under the rubble of destroyed buildings there are thousands of dead civilians who decompose and poison aquifers. The city does not have running water, humanitarian demining is not carried out, there is no electricity, there are no hospitals and pharmacies, there are no shops. Conditions for the safe return of residents are not created, and finding already returned residents is endangered. Under these conditions, returned to the city, according to the statement of Jan Egeland, the UN official in Syria, allegedly 100 thousands of refugees have nowhere to live, they lack food and water, there is a danger of spreading epidemics and death from explosions.
The situation is completely different in the government troops liberated from the militants with the assistance of the Russian Aerospace Forces cities of Aleppo, Deir-ez-Zor and the suburbs of Damascus in Eastern Ghouta. Humanitarian aid is delivered in these localities, demining is under way, water pipelines have been restored or water has been organized, public administration bodies are in operation, hospitals, shops and schools are being restored. As a result, more than 55 thousands of people have returned to the settlements of Eastern Guta in recent days only
- added to the Ministry of Defense.