The official representative of the owner of the Russian fishing vessel "Nord", captured by Ukraine in the waters of the Azov Sea, Anna Sheveleva reports that the court decided to release the Russian fishermen to freedom. We are talking about 9 crew members of the "Nord", which since March 25 is located in the port of Berdyansk. The captain of the "Nord", despite yesterday's court decision, continues to be in the remand prison of the Security Service of Ukraine in the city of Kherson.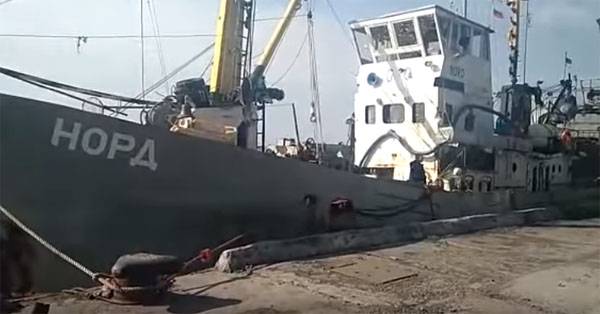 At the same time, there remains a significant likelihood that the SBU will not leave alone the liberated by the court from imprisonment on board the ship with rotting fish.
RIA News
quotes Anna Shevelev:
The team, with the exception of the captain, is at large. Now they are all in Mariupol. But they still need 10 (April) to appear for questioning by the SBU in connection with the case of the captain.
Earlier, the court imposed administrative fines on the members of the "Nord" crew, guided by article 204 of the Code of Administrative Offenses of Ukraine. We are talking about an article providing for administrative responsibility for the "violation of the procedure for entering" on the so-called "occupied territory of Ukraine".