From the Syrian metropolitan province, there are details about the assault by government troops of the last bastion of terrorists in this region, the city of Duma in Eastern Ghouta. The order to the beginning of the assault was given by the Syrian general Sukheil Al-Hassan, who had a meeting with other representatives of the Syrian generals the day before, including the CAA brigadier general Saleh Abdullah.
After identifying and supplementing the main positions of the militants, in the dark of the day, they were hit, thanks to which the terrorists were deprived of the possibility of coordinating their actions. According to the latest data, the headquarters of one of the largest militant groups in the province of Damascus, the Jaish al-Islam group (* banned in the Russian Federation), enjoys outright foreign patronage from those who stir up the Syrian conflict, was destroyed. The main part of the militants of this group had previously refused to leave the Duma on the corridors prepared by the CAA and the Russian center for reconciliation of the warring parties.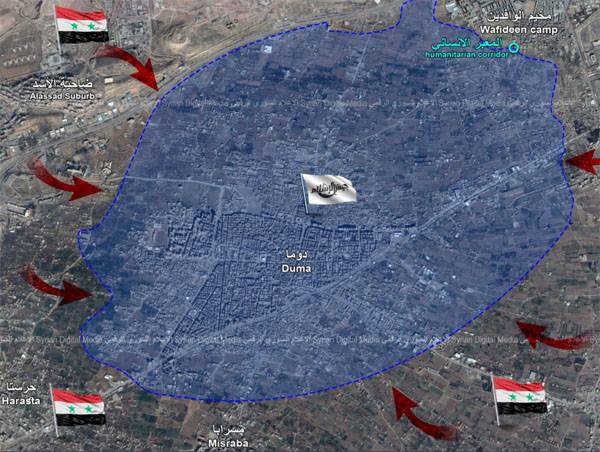 As soon as the CAA troops began to storm the Duma, the notorious White Helmets, affiliated with the Dzhebhat al-Nusra terrorist group, entered into action. Statements were made about "indiscriminate" bombing and appeals to the "international community" were published.
Recall that the CAA had previously liberated other areas of Eastern Guta, including Misrabu and a key area, Harastu.
It is noted that after the Eastern Guta is completely cleared of terrorists, Syrian troops will focus on military operations in Daraa and Quneitra - near the borders of Israel and Jordan, and also carry out a sweep around Homs, where they continue to be active gangs. There is evidence that the Jordanian authorities requested contacts with the Syrian side.