Regular protests in the format of the so-called "Friday of wrath" broke out in the Gaza Strip - on the border with Israel. Thousands of Palestinians are participating in the actions (according to Israeli data, around 50 thousand), many of whom again came close to the border fence, set fire to automobile tires in the border area and started throwing stones at Israeli soldiers.
In response, Israeli troops used tear gas first, and then combat
weapon
. In this case, the command of the IDF noted that the shooting was of an exceptional warning nature.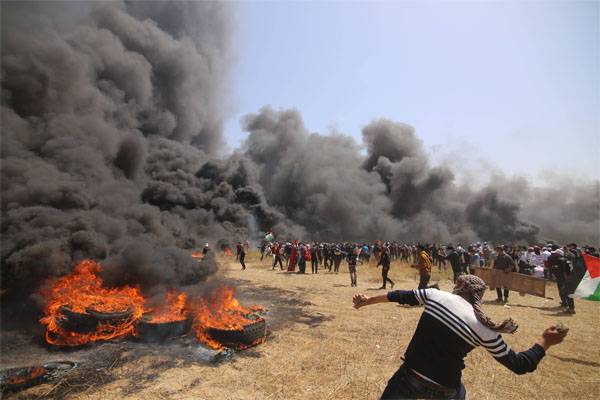 If you believe the Palestinian side, several Israeli soldiers opened fire to kill, killing at least three Palestinians from the Gaza Strip.
It should be noted that in Israel, all Gazans who go to anti-Israeli actions are called Hamas provocateurs, and all those killed are called terrorists or their accomplices.
NewsRuIsrael video shot by drone:
According to the Gaza Ministry of Health? since 30 March, 23 people have been killed in the sector as a result of the actions of the Israeli military. Prior to 2, thousands were injured or got tear gas poisoning.
We will remind that earlier in the Israeli military command they said that they would continue the practice of using tear gas with the help of UAVs.