Head of the Defense Committee of the Federation Council Viktor Bondarev on Friday at a meeting with the chairman of the Defense and Security Committee of the National Council of Slovakia Anton Grnko, said that despite the difficult period of interaction with the European Union, Russia manages to maintain constructive partnership with Slovakia, which is characterized by a high level of political dialogue, cooperation in the trade and economic field and other areas.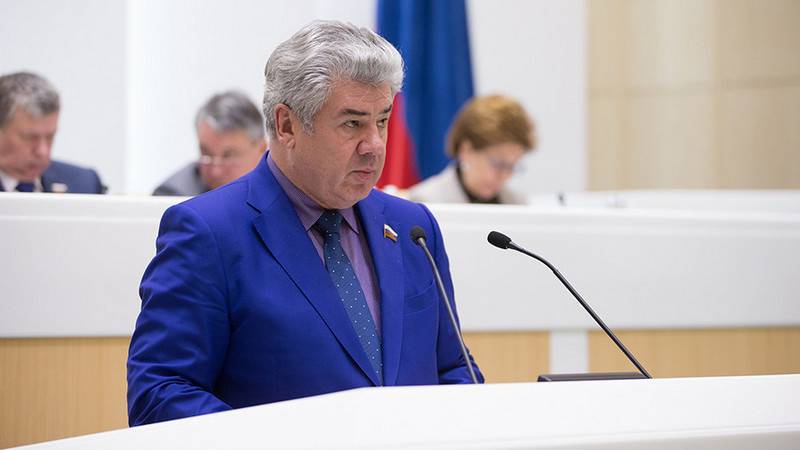 Slovakia is one of those countries that refused to expel our diplomats in the framework of "solidarity" with the United Kingdom in the so-called "Skripale case". Russia highly appreciates the principled, independent position of Slovakia, based on international law
- stressed Victor Bondarev.
Among the most important areas of Russian-Slovak cooperation, which, contrary to EU approaches, is actively developing, the Russian senator called the military-technical sphere:
The agreement on subscription service for MiG-29 airplanes of the Slovak Air Force is successfully in force. Plans are underway to repair in Slovakia 36 helicopters of Russian origin, belonging to Afghanistan. In this regard, it is important to intensify efforts to prepare and sign an intergovernmental agreement on cooperation in the field of repair and modernization of Russian helicopters in Slovakia. We have such agreements with the Czech Republic and Bulgaria, which greatly facilitates cooperation in this area.
Victor Bondarev called for the start of relevant negotiations at the level of the competent departments of the two countries. For our part, the legislator reminded, this is the FSMTC of Russia and Rosoboronexport JSC.
Confidence in the continued constructive cooperation of our countries instills the position of Bratislava on conservation
historical
memory. Viktor Bondarev expressed his gratitude to the leadership, local authorities and citizens of Slovakia for the careful attitude to the memory of Soviet soldiers who sacrificed their lives for the liberation of the peoples of Europe from Nazism, for worthy maintenance and care for
military graves and memorials that are located in the Republic. "For us it is important that history is not rewritten in Slovakia, the role of the Red Army in the defeat of Hitler's Germany is not questioned, the memory of the Red Army soldiers who fell for the liberation of Czechoslovakia is honored
- said the parliamentarian.
Anton Grnko, Chairman of the Security Committee of the National Council of the Slovak Republic, expressed his desire to
to continue a constructive dialogue between countries. He noted that Slovakia cherishes the friendship with Russia, remembers who owes freedom from the German yoke, honors the feat of Soviet soldiers and knows how many of them were killed for the freedom and independence of European nations. Anton Grnko, whose father also fought against the Third Reich and was wounded, assured on behalf of the state that Slovakia would continue to keep in proper form all the graves and memorials of Soviet soldiers. This is not only his personal attitude, but also the official position of the country.