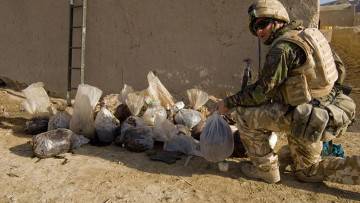 Investigators are investigating information about the heroin smuggling community among British soldiers serving in Afghanistan.
At the center of the investigation were British and Canadian forces based in Camp Bastion and Kandahar, the two main airports through which servicemen arrive and depart from the country. The army leadership is so concerned that it has ordered increased checks on troops returning from hostilities.
Methods of verification include the use of dogs trained on drug detection, personal and luggage searches, and other covert monitoring methods at a military airfield in Oxfordshire, where up to 700 soldiers arrive every week.
The checks were so extensive that this weekend the Ministry of Defense publicly apologized to the employees for the inconvenience. However, the ministry also threatened that any soldier caught red-handed would be convicted to the fullest extent of criminal law.
In Afghanistan, 90 per cent of the world's opium is used to produce heroin. Around 60 percent grows in Helmand province, where British troops and their counterparts from other NATO countries are fighting.
The heroin trade brings in around 2 billion pounds (about 3 billion US dollars) per year. Supported by the Taliban, drug barons offer farmers three times more to collect opium poppy than they could get from other jobs.
According to unofficial data from local drug smugglers, British troops have been involved in this trade for some time.
The criminal investigation began after investigators from a special division of the Ministry of Defense in Hampshire received information from an informant that a group of British soldiers were buying drugs from dealers and sending them to military base at Brize Norton base. This weekend, the Department of Defense said it was investigating these allegations, and that it would act immediately against soldiers trying to smuggle drugs from Afghanistan.
A ministry spokesman said: "We take such reports very seriously, and we have already strengthened existing procedures, both in Afghanistan and in Britain, including the use of dogs trained to detect drugs."
Last year, The Sunday Times newspaper interviewed an 32-year-old merchant who said that he worked for a representative of the Northern Alliance, an anti-Taliban organization that finances its activities through drug trafficking. The trader, who called himself Aziz, described the deals he conducted in Kabul.
He said: "Most of our other clients, not counting drug barons in foreign countries, are military. Soldiers, whose service is about to get acquainted, make orders from our boss. Most of the foreigners making these deals are military.
They buy a lot from us.
As I heard, they are transporting these drugs on military aircraft, and they are not available, because they are military. They can transport them to the USA or England.
I heard about this when I first started working, from the guys who brought me to my boss. "