The top five aircraft carriers ever launched all over the world is headed by the Russian aircraft carrier Admiral Kuznetsov, according to The National Interest magazine.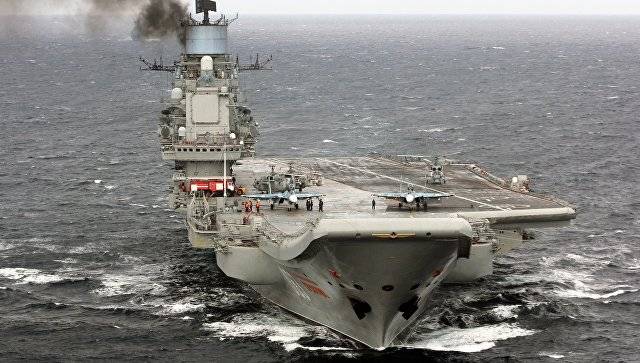 "The aircraft carrier laid in 1983 in the USSR was put into operation only in 1995 and already in Russia. After the accident in 1996, the ship was under repair until the 1998 year. After that, "Admiral Kuznetsov" periodically went into the Mediterranean Sea, usually with great fanfare, and only in November 2016 took part in his first combat operation (in Syria), having lost two aircraft: MiG-29K and Su-33 ", - lead article
Lenta.ru report
.
According to the author, the cause of the cruiser's failures is "the poor quality of construction and poor support", and bringing it into proper condition will require "more investment than Russia is currently ready to make for its flagship."
The publication also included the five "worst" British Eagle (launched in 1918 year), French Bearn (1920), Japanese Kaga (1921) and American Ranger (1934).
The magazine notes that all these ships in the future "served as the basis for the new aircraft carriers of their countries, whose military received sufficient experience in their operation." The only exception is "Admiral Kuznetsov," who "remains in some kind of ministry, but does not yet produce offspring (at least in the Russian naval
navy
). "
Recall that in June last year, the representative of the Ministry of Defense Igor Konashenkov called boastful the words of British Defense Minister Michael Fallon "about the beauty of the aircraft carrier Queen Elizabeth and the decay of the Russian Admiral Kuznetsov". He noted that Fallon shows ignorance of naval science and does not see the differences between the two ships, the first of which is the aircraft carrier and the second is the aircraft carrying cruiser.