In effect, having eliminated two "ramish" potential rivals in the upcoming presidential elections (Mikhail Saakashvili and Nadezhda Savchenko), Petro Poroshenko decided to take on the main competitor. We are talking about Yulia Tymoshenko, whose electoral rating has recently reached the mark of 24% (Poroshenko - about 9%). The current president of Ukraine decided to deal with the people's deputy and former prime minister Tymoshenko with the help of classic black PR, to which the National Anti-Corruption Bureau of Ukraine (NABU) and members of the country's delegation to PACE were connected.
The head of the Ukrainian delegation in the Parliamentary Assembly of the Council of Europe, Vladimir Aryev, on Facebook, writes that the National Anti-Corruption Bureau of Ukraine is starting an investigation into the possible financing of the election campaign of Yulia Tymoshenko from abroad.
Aryev
writes:
NABU began checking for information on campaign financing for Y.Timoshenko 2010 by Libyan dictator Muammar Gaddafi. Will relevant inquiries be sent to law enforcement agencies in Libya to receive information from living members of the Gaddafi family?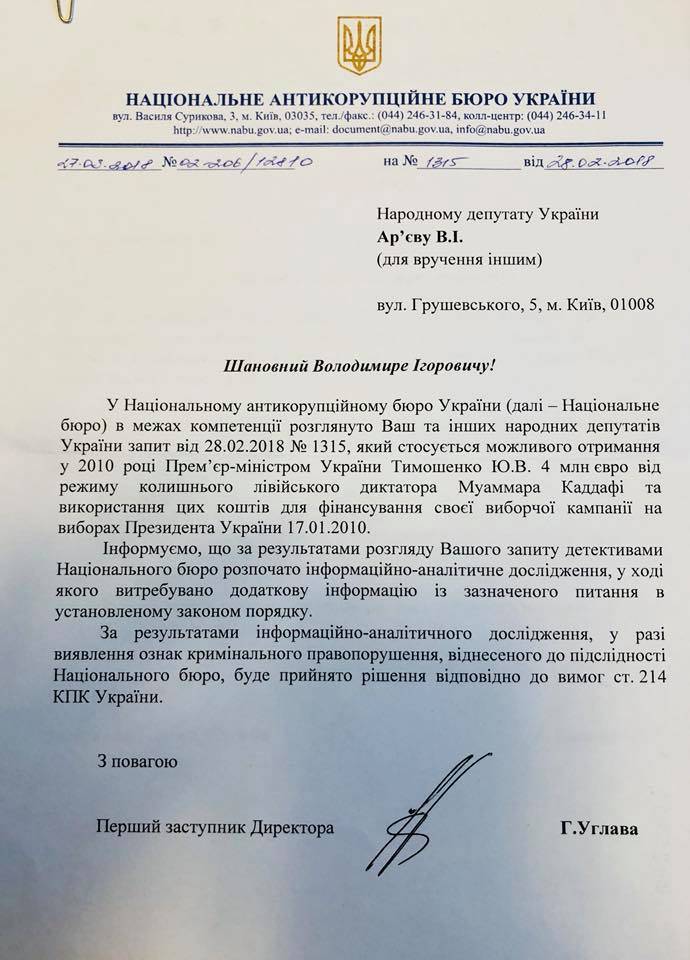 The published Aryev document states that Yulia Tymoshenko during the 2010 election campaign of the year could have received from the "dictator Muammar Gaddafi 4 million euros".
Tymoshenko denies financing her election campaign from the personal funds of the Gaddafi family. But is this a problem for the Ukrainian "justice" system? ..