The number of American government officials awarded state awards of Ukraine is growing. Another representative of the ruling American elite, awarded by the Ukrainian President Poroshenko, was the senator from Ohio, Rob Portman, who had previously been a member of the House of Representatives of the US Congress.
Senator Portman Poroshenko awarded the Order of Merit to Ukraine. The rank of the order - III degree.
From the description of the "merit" of the US senator to Ukraine:
For a significant personal contribution to the strengthening of Ukrainian-American interstate cooperation, upholding state sovereignty and territorial integrity of Ukraine.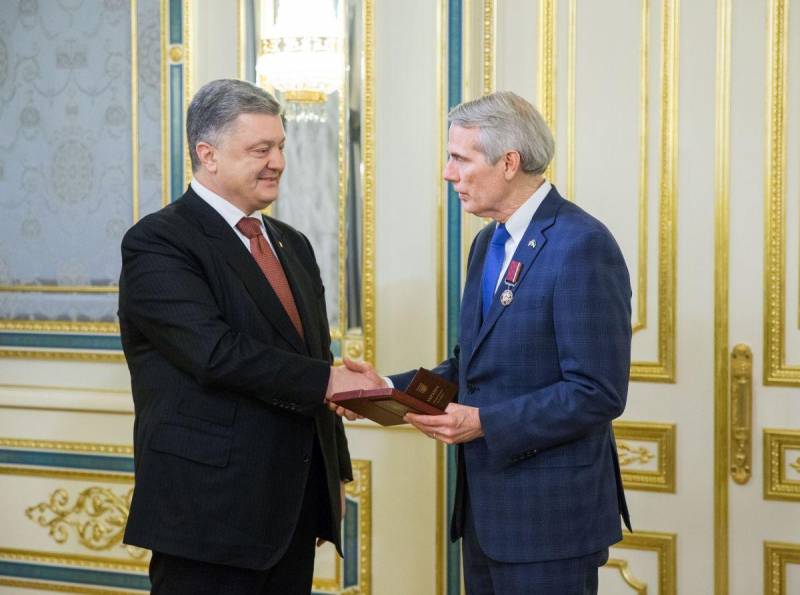 During the presentation of the state award to Senator Portman Poroshenko, he thanked for the promotion in Congress of the idea of ​​providing Ukraine with military aid, as well as for voting on the introduction of anti-Russian sanctions.
By the way, in the meantime, there came messages from the US that Washington is going to impose additional sanctions against several representatives of large Russian business.
Poroshenko after the award asked the US senator to "assist in non-promotion of the Russian project" Nord Stream-2 ". The order-bearing US senator said he was ready to do everything possible, but he added that he expected Ukraine to have a "clear program to fight corruption".