The portal, which monitors military and "nuclear" activity on the Korean Peninsula, publishes material on events related to the reactor in Yongbyon. This reactor in the DPRK is used to produce weapons-grade plutonium. Online
38 North
stated that the North Korean authorities had probably ordered the shutdown of the reactor with a capacity of 5 MW.
At the same time, the material refers to the data obtained by "commercial" satellites from March 30.
It is also stated that work is underway near the coolant reservoir. It is noted that this may be due to the fact that water is evenly applied to the object.
From the material:
In addition, an unusual number of large vehicles were parked in the back of the reactor. Among these cars there are at least three large trucks, two of which appear to have tanks. Also, probably, a tarpaulin crane is nearby. The purpose of the arrival of these vehicles is unclear, but may be part of a new maintenance project related to the transfer of spent fuel rods from a nearby storage facility to move them from the installation to the radiochemical laboratory for the processing or delivery of fresh fuel.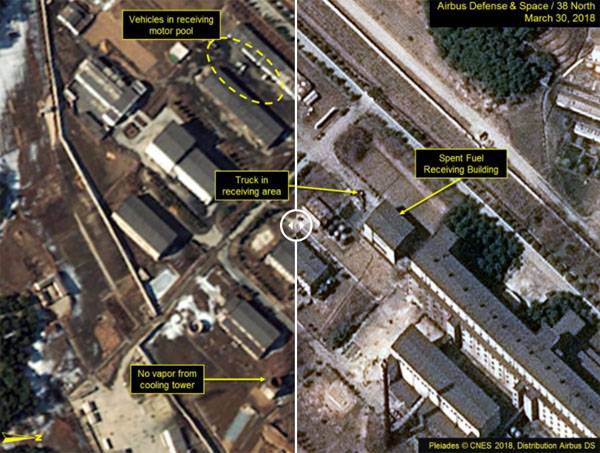 Immediately added:
At present, the images indicate only the usual movement of vehicles and do not indicate any actions related to the preparation or the ongoing reprocessing campaign in the radiochemical laboratory. If such a campaign were conducted, one would see special cars.