The arrest of Ziyavutdin Magomedov, a native of Dagestan, the "right hand and left wallet" of the Dvorkovich-Medvedev team, caused genuine sensation among the population of the republic. Our old acquaintance, expert and political scientist, a resident of Makhachkala, Magomed Osmanov, tells the Military Observation about how the republic reacts to a long chain of landings of local oligarchs.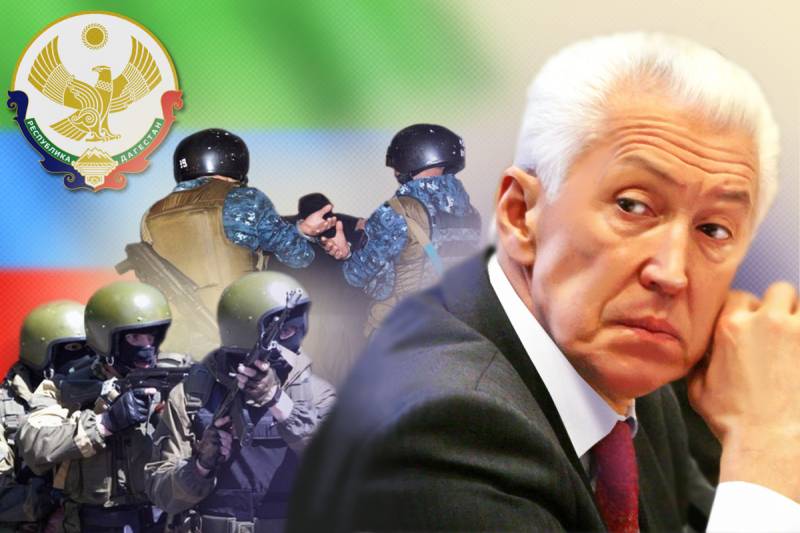 "Seventeen landings Vasiliev"- Magomed, what are the feelings of the residents of Dagestan now?
- Thanks to the arrival of Vasilyev (we call him the "punishing hand of the Kremlin"), Dagestan has finally woken up from many years of hibernation and now lives a vibrant, interesting and eventful life. Landing go one after another. Night craters cut through the republic, as in 37-th year. Only if the Beria falcons were one size fits all, both right and wrong, now plastic collars in Makhachkala are worn on specific characters - those who, as I understand, have long been in development with thoughtful guys from Lubyanka. Vasiliev's arrival in Dagestan and all his subsequent actions have caused a bombshell effect on the population, and among local oligarchs the effect of a blasted enema. Previously, an ordinary citizen of our region had only three classes: squat, saw the budget and run through the forests with a gun. Now there is a new occupation - to discuss in the evenings in all courtyards and in all kitchens Vasilevsky plantings. During my youth, when the series "Seventeen Moments of Spring" was on, in Makhachkala, even the streets were empty - all the people were sitting at the television sets. Now another series has been launched in the Western Caucasus - Seventeen Landings of Vasilyev. Lots of lots, and the outcome is far away. It became very interesting to live in Dagestan, very.
"No money - go to the devils!""And you are not offended: yours are being pinched ... Many of them were certainly patrons of the arts."
- None of these swagger patrons have never been. And he was not going to. But they took bribes in all parts of the body. And at best they fed their kindred clans. Some were dragged to Moscow. And even in general abroad. Dagestan did not interest them from any side. As a result, social stratification has turned into real social Darwinism. It was just wildest. Medvedev's famous phrase "No money, but you hold on!" In our region was altered in its own way: "No money - gnaw stones!" Or - the second option: "No money - go to Russia!" There is still a third: "No money "Go to the devils!" Well, that is to Wahhabis. And in the economy of their homeland - and the homeland of their ancestors - they did not invest a penny. Some burned money in brothels with silicone prostitutes, others gnawed stones from hunger. And still others did go to Shaitan-Wahhabis or went to Russia - for the most part fell into crime.
- And what, no crime in any way? Tajiks and Uzbeks also come to us in the millions, and everyone has a job ...
- This is Dagestan, son. It is the birthplace of the Abreks, not the Ballers and chess lovers. Strong, impudent boys are born here, not boys bells from the city of Ding-Ding. Our "Gai-Gui-Makhachkala" (as we call it) is not Tashkent, Penza or Ashkhabad. Russia came to the Caucasus for several centuries and weaned off the practice of raids, but the ancestral genetic code remained in each of us. Working hard on construction sites and on someone else's uncle is not for our young people. And take into account the unbridled greed and extreme self-esteem of the Dagestanis. Here, every first is Imam Shamil, every second is Shamil Basayev, every third is Shaitan, and every fifth is an Olympic champion. And all - passionaries, all - megalomania. You look: a person has no brains, no intelligence, no talent, no abilities, one muscular corset, but he thinks he is Napoleon. Well, I want to cut the money faster and "on passion", and not dull monotonous work. That breaks people in crime. Many are burning on this. Well, what to do ... This abrek was not lucky, say his friends, cleaning the barrel of a Kalashnikov. It happens.
- But shaytan specialists are shot at you, and regularly.
- Well, not everyone. Someone manages to jump off the crew flying into the abyss. The Shaitans are as mobile as mercury. Today he is in Makhachkala, tomorrow - in Derbent, the day after tomorrow - in Istanbul, and in a week - in Damascus. And there are no problems with either money or concubines. Romance!
"But he constantly lives in expectation of a bullet in his head, on which his name is engraved.
- You, Russian, try to understand me. Compared to you, the plain guys, we mountaineers, people of thrill. A normal self-respecting Caucasian man feels good only when a saber whistles over his head. That's when he is at ease. Then life is good.
Here, for example, in Lviv there is a cafe "Masoch". There local aunts with convincing forms for discounts and bonuses whip customers with whips on the ass. Both those and others derive incredible pleasure from it. And we, Caucasians, get pleasure from the feeling of danger when we balance on the edge of a razor on the edge of an abyss.
As for the disposal of the Wahhabi ... We are joking in the Caucasus: if in the morning, in the region of Makhachkala or Derbent, someone was not piled up, then the day was clearly not set. When we, Makhachkala residents, find out early in the morning that the strong bad guys who came from Kevlar helmets who came from Russia sent us to the long-awaited furies of another bearded Barmaley, our mood improves dramatically. You understand that the state is not in a coma, as it was before. You see that Russia conducts with us another unscheduled reorganization of local barmaley, regulates Shaitan-gene pool, and the tone rises sharply. You understand that time has not stopped, life goes on. Not for everyone, true, but for the normal majority. And in general, what could be better than the process of sending another party of shaytans to another furies without transferring it?
"But they kind of think that they are waiting for the Gurias in paradise ..."
- That they think so. And we think differently. Furies are waiting for them. On the ground - bony with a scythe, and in the sky - old women Izergil. Good company, Mr. Wahhabi, life is good, buy some candy for your journey.
- That is, Wahhabis do not have authority on you?
- There is no definite answer. If the Avar has gone to the forest and stomps businessmen, Lezgins or Kumyks - well done, handsome. If you choke your own - a traitor, Vlasovite, nit, subhuman. Almost Satan.
- Why is it that something constantly happens in Dagestan? About the same Penza or Tambov there is no information for years. Well, except that a mass brawl with the same Dagestanis or Chechens ...
- Understand the simple thing. We Caucasians are people of war. Our peaceful life is boring and dull. We constantly want to sprinkle it with new, burning impressions. Do you somehow go to the evening Makhachkala. In every yard there are fights, at every intersection there are some disassemblies, in each gym muscular bodies fly through the air. Constantly someone blurs someone, squeezes, throws through the hip or "spreads it on the headstock". This is Caucasus.
Chechnya and Dagestan: two elites, two worlds- Let's go back to the brothers Magomedov. And why in neighboring Chechnya there is no such dominance of local oligarchs?
- There are several explanations for this. First, Chechnya is a mono-national republic. There is no such bickering like ours. In the Caucasus, however, there is a solid friendship of the peoples, only certain representatives of our peoples are not averse to snacking on the neighbors of Kadyk and the arteries. There is no such thing in Chechnya. Secondly, all local oligarchs are directed on the true path by Ramzan himself. Yes, they also crave enrichment. But they learned to enrich themselves by fulfilling all the orders of Ramzan on the construction of various social facilities. Of course, not everyone could keep themselves in the framework. But if someone "lost the coast", he was brought to Ramzan on the carpet in the trunk of a car. After such a trip and a "warm" conversation with the president, insight was condescended to the person. His eyes opened, suddenly high social consciousness erupted. In Dagestan, this is impossible, unfortunately. You put someone in the trunk - tomorrow all his relatives of the hunt will open up on you, forgetting to buy a license to shoot. Of course, for you, according to the law of the genre, all your relatives will fit in. But this is a Caucasian vendetta, blood feud. Its not so easy to settle. In such cases, we use heavy artillery - our old men. But even they are not always able to quickly stop the bloodshed. Here our unbridled passions find their full use. Third, Chechnya survived two terrible wars with Russia and bloody civil strife between highland and lowland Vainakhs. By the way, many of the plains immediately took the side of the federals - like Said-Magomed Kakiyev. Some, realizing the futility of the service to Dudayev or the deadlock of the chosen path, like Ruslan Labazanov or Musa Gazimagomadov, later switched to the side of Russia. Only the most stubborn ones or those who were on good financial inflow among the Turks, Arabs or Western investors remained. And for those guys the entrance is a ruble, the exit is one hundred fifty. Well, or a federal bullet as a happy ending. After the war, smoking ruins and bloodied ashes remained from the former Chechnya. And Putin did not just put Ramzan in the kingdom for nothing and turned Grozny from Stalingrad into Paris.
We, the Dagestanis, did not survive this horror. Therefore, the attitude to the federal authorities was appropriate. You live your life there, we your life. Moreover, in the republic to the last they were sure that after Chechnya, the Kremlin would not risk engaging in no less explosive Dagestan. During the Chechen campaigns, our republic also had to be cleared of the local Wahhabni, but the Kremlin, apparently, was afraid that it would not pull the war on two fronts. Now the situation is different. And Chechnya is already rigidly built into the vertical of power, and the Kremlin has strengthened, and the Russian army is already different. And our oligarchs were still immersed in sleep, bliss and embezzlement. Awakening was sad. The same Magomedov had to land on the government bed in a concrete hotel.
And there is one subtle point. For the most part, our oligarchs are not highlanders. These are mountain Jews, tats. Their percentage in the republic is insignificant, but they freely manipulate financial flows that are comparable (or even exceed) the budget of the republic. But even scales from the master's table do not fall apart from ordinary citizens of the republic. All the money that falls into the hands of the owners of life goes somewhere in Haifa, Tel Aviv, Paris, London, Miami, on yachts, girls and offshore. And local hooters from auls, such as the Magomedov brothers, vigorously serve the interests of these international tycoons, feeding only their own clan. We in Dagestan called this oligarch-service "Tato-Blower". For twenty years, these "blowers", together with their transnational owners, have gone crazy about money in a poor subsidized republic. Putin's journey from Chechnya to Dagestan was long. But he still came. So we continue to watch the Vasilyevsky series about "seventeen landings". Dagestan is eager for the next series.