Following the trilateral meeting, the Russian, Turkish and Iranian leaders held a joint press conference. According to Vladimir Putin, the most important statement is the statement (and the final document) about supporting territorial unity, the integrity of Syria.
Vladimir Putin:
We have reached important agreements, which are reflected in the joint statement adopted at the end of the meeting. This document emphasizes the firm commitment of Russia, Iran and Turkey to help strengthen the sovereignty, independence and territorial integrity of the Syrian Arab Republic. Such a principled position is particularly significant today against the background of increasing attempts to exacerbate inter-ethnic and interfaith relations in Syrian society.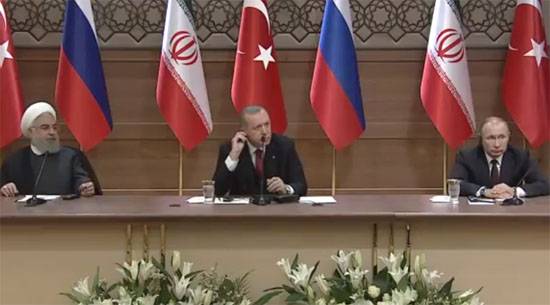 According to the Russian president, the issue of conducting humanitarian operations in Syrian territory was also discussed.
Putin:
The inadmissibility of politicization of this topic, the need for a clear implementation of the UN Security Council resolution 2401, which aims to alleviate the suffering of the civilian population throughout Syria, was stated.
The Russian President noted that speaking of the problems with the flows of Syrian refugees, we should not forget that there are refugees in other regions of the world. In particular, Vladimir Putin gave the example of Ukraine.
According to the President of Turkey, Turkish troops will continue to fight with terrorist groups in Syrian territory "until the final victory." Recall that the official Ankara terrorist groups include Kurdish YPG / PKK.
The Iranian leader called the meeting with his Russian and Turkish counterparts open and trusting.
Hassan Rouhani:
We talked about the situation in Syria, discussed the future of this country. It is in this open, trusting way that all the problems in the world need to be solved.