It became known that the captain of the Russian fishing vessel "Nord" Vladimir Gorbenko was taken from Berdyansk to Kherson. The Russian lawyer reports that his client before the start of the court hearing on the election of a further preventive measure will be in the department of the Security Service of Ukraine on the "Autonomous Republic of Crimea". Recall that in Kiev, the Russian region is still so called, funding numerous ministries and departments, as if "responsible" for the peninsula.
The first court hearing on the "case" of the Russian "Nord" should take place today. Recall that the Russian fishing vessel was actually seized by Ukrainian border guards in the Azov Sea 25 March. Only a few days later, the Russian Foreign Ministry demanded that Kiev release both the ship and 10 crew members.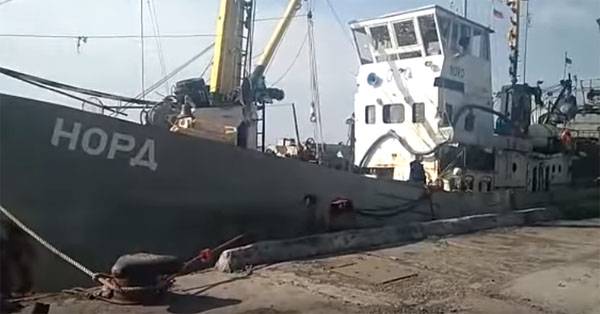 According to the crew of the Nord, representatives of the Security Service of Ukraine, who came on board the ship, said that they would be released as soon as they renounced the citizenship of the Russian Federation and "wanted" to receive Ukrainian passports. None of the crew members did this, saying: "We are citizens of Russia!"
Meanwhile, the Ukrainian State Border Service said that Ukraine intends to continue to detain Russian ships if they entered the Crimea or were assigned to the Crimean ports.