Russian Defense Minister Sergei Shoigu, speaking at the VII Moscow Conference on International Security, said that the new arms race in the world is fueled by the claims of some countries to be exclusive.
Today, the world is going through a crucial stage ... Increasingly, the emphasis is on the force resolution of contradictions. The exclusivity claims of individual countries are pushing for a new arms race
- he said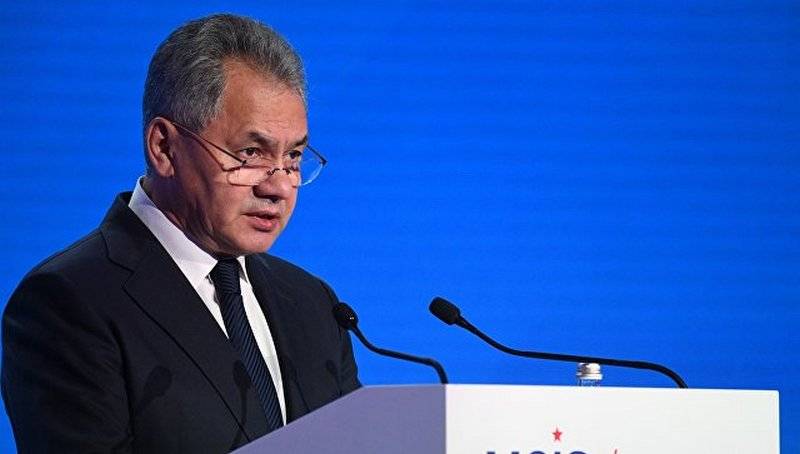 Against this background, anti-Russian rhetoric is intensifying, unfriendly military activities are activated near our borders.
- added the head of the military department.
Shoigu recalled that the United States and NATO had deployed an 10-thousandth offensive force group along the western borders of Russia.
Today, in the Baltics and Poland, the 10-thousandth contingent with all types of offensive weapons is already deployed. The activity of the fleets of the United States and other NATO countries in the Black and Baltic Seas is increasing, the number of exercises and training sessions of the North Atlantic Alliance has grown, and they are clearly anti-Russian in nature.
- he said.
In addition, the US missile defense system is a destabilizing factor and incentive for an arms race.
(There is) the deployment of elements of the global missile defense system, including outside the national territory of the United States, on the European continent and in Asia. Today, no one doubts that the US missile defense is a serious destabilizing factor, an incentive for an arms race, a gross violation of international obligations. Including the treaty on the elimination of medium and short-range missiles
- declared Shoigu
In addition, increased flight intensity
aviation
Alliance along Russian borders.
Since January, fighters of the Russian Aerospace Forces have risen to intercept more than 25 times. <...> In turn, we are not going to knock on a closed door, but we do not intend to ignore the attempts to use force against us. The combat potential of our armed forces will be maintained at a level guaranteed to ensure the military security of Russia and its allies
- added the head of the military department