Russia, in response to the seizure by Ukraine of a vessel of the Crimean fish farm "Nord", can strengthen the technical inspection of Ukrainian ships in the Kerch Strait and limit their navigation, reports
RIA News
statement by the chairman of the All-Russian movement
fleet
(DFT), Ph.D. in Political Science, Captain First Rank Mikhail Nenashev.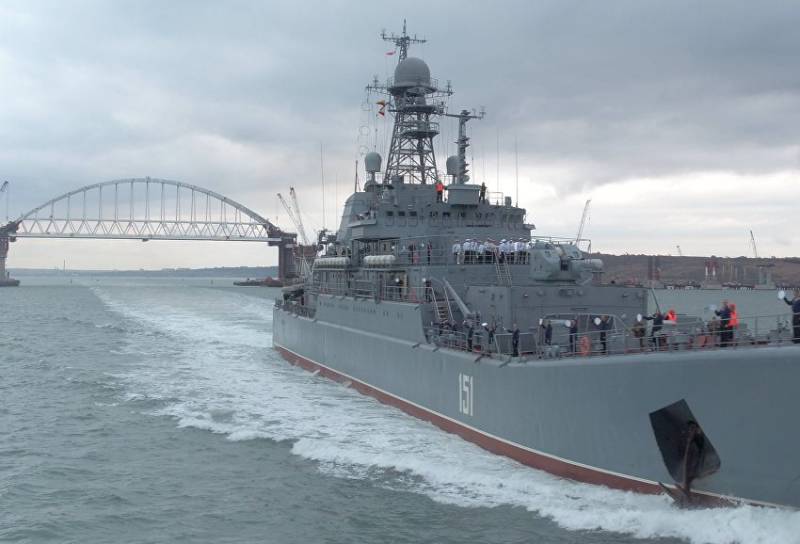 Earlier, the agency's military source said that the Black Sea Fleet's command was considering the issue of "ensuring the safety of navigation in the northeastern part of the Black Sea and the Sea of ​​Azov after the Ukrainian border guards detained the Russian ship Nord in international waters." According to the interlocutor, "the threat of Ukrainian state piracy has already been identified," and the Black Sea Fleet, including the sea
Aviation
, "In the case of receiving an order, it will ensure the safety of Russian vessels through a permanent presence in problem areas".
To stop piracy on the part of the Bandera authorities of Ukraine, first of all, it is necessary to warn Kiev that Russia has various countermeasure tools. You can, for example, limit the passage of Ukrainian ships through the Kerch Strait, since the Ukrainian side always has many security problems on outdated ships. They objectively require increased control, so we will be able to oppose the barbaric policy of the Kiev authorities, in particular, against our fishermen,
said Nenashev.
For ten days they (the crew of the Nord vessel) are not allowed to use the means of communication, they are actually denied medical assistance. All the norms of international maritime law are violated. The Bandera authorities claim that the Kerch fishermen are their citizens. Of course, this is not the case, but from their logic it follows that the Kiev rulers are extremely inhumane to their citizens,
he continued.
According to the head of the DFT, "this provocative policy is dictated and imposed on the Kiev authorities by the Washington authorities, and Bandera conducts it with particular zeal."
Thus, they are no different from the Somali pirates. And if preventive measures, let's say, of an intelligent character, do not work - to strengthen the inspection of Ukrainian ships sailing through the Kerch Strait, then I think military measures will be taken
declared the chairman of the organization.
He recalled that in the pirate areas of the World Ocean "Russian ships, including fishing ones, are under the protection of warships of the Russian Navy."
To the well-known Somali pirates now added Bandera. So, they should be treated the same way - in accordance with the norms of international law,
concluded Nenashev.
March 26 Russian fishing vessel "Nord" was detained by Ukrainian border guards. The crew was accused of violating maritime borders. The fishermen drew up administrative protocols and forbade leaving the vessel. The Russian authorities are demanding the return of the seized vessel and the release of the crew.