Following reports of the crash of an American aircraft in the African state of Djibouti, there is information about the crash of an American military helicopter in the territory of the United States itself. And in both cases, military aircraft belonged to the US Marine Corps.
The helicopter crash occurred in the south-west of the United States - in California (near the town of El Centro). According to the latest data, four US servicemen on board died. The total number of US Army personnel aboard is not reported.
This is a helicopter CH-53E Super Stallion. The crash happened around 14: 35 local time (0: 35 Moscow time). The helicopter reportedly made a scheduled flight during the "standard marine exercises".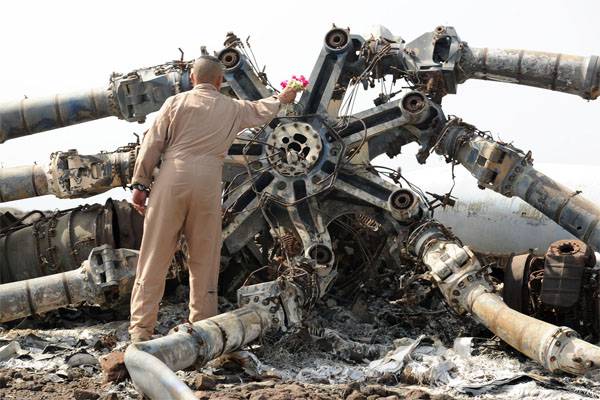 What remains of the CH-53 Super Stallion in the Gulf of Aden (2006)
CH-53 Super Stallion is a heavy transport military helicopter. These machines have been in operation since the middle of the 60s. The crew of the helicopter is the 3 man (the 4 man in the upgraded versions). The machine is able to take on board up to 40 military personnel. Maximum payload - 5,78 tons. Practical ceiling - 5,1 km. The United States actively used helicopters of a similar type during the Vietnam War, losing then 36 units.