The remnants of the terrorist groups continue to be highly active in the south of the province of Deir ez-Zor. The United States and the Kurds will redeploy their forces to Manbij in anticipation of the Turkish operation. Reports about it
FAN
with reference to Syrian sources.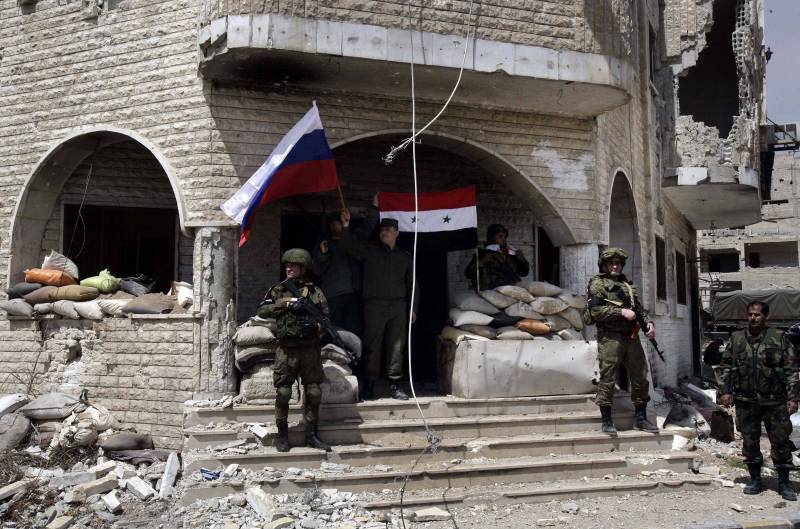 The Russian Center for Reconciliation of the Warring Parties to the SAR and the Government of the Republic proposed to the armed groups stationed in the Eastern Kalamun to the northeast of Damascus two options for resolving the conflict: either militants voluntarily accept the management of the official Syrian leadership and receive the opportunity of amnesty, or give up positions and leave This region in another, for example, in Idlib. Most radicals intend to relocate to nearby mountain areas. Later, information emerged that the Islamists intend to form a single headquarters to repel the coming offensive of the Syrian army.
Meanwhile, residents of Eastern Guta, previously evacuated from settlements in this area, are beginning to return to their homes. At the moment, in An-Nashabiya, Khosh Ad-Dawahiru and other settlements, which were among the first to be cleaned of terrorists, about 40 thousands of people returned.
The Kurdish Syrian Democratic Forces (SDF) and those in charge of the United States have significantly increased their military presence in the area of ​​the cities of Rakka and Manbij (Aleppo Province) on the eve of the next stage of the operation of the Turkish army and the FSA detachments. The Pentagon has recently moved its military to at least 300 closer to the northern border of the republic. In addition, the Americans began to form a new base on the outskirts of Manbij.
The remnants of the formations of the "Islamic State" (IG, grouping is prohibited in the Russian Federation) are increasingly active in the southeast of the province of Deir ez-Zor. In the morning, terrorists concentrating beyond the Euphrates fired on the outskirts of Abu Kemal with rocket launchers. Igilovtsy still maintain a significant presence in the area, moving freely and in fact still controlling a number of settlements. Many experts believe that there are a number of agreements between the IG and the American-backed Kurds, according to which these areas are divided into zones of control.
The Syrian air force stepped up attacks on command posts, warehouses with weapons and equipment, as well as places of the Dzhebhat an-Nusra terrorists (banned in the Russian Federation) and controlled Islamist groups in the west and south of Idlib province, not a territory outside the de-escalation zone . According to the Lebanese media, the anti-terrorist air operation also involved the Russian Federation Air Force. Officially the Ministry of Defense of the Russian Federation information is not confirmed.
In the north of the province of Hama, in the area of ​​Al-Latami ledge, skirmishes between the government forces of the SAR and the formations of the terrorist coalition continued for almost the whole day. SAA fired on jihadists on the outskirts of the front-line settlements of Az-Zilakyat, Kafr Zeta, Al-Arbain, Murek and Al-Latamina. Helped them in a number of areas
aviation
.