Prospects for the war of some people against others in the context of a shortage of resources and "mind" can not but alarm. But there is another problem of humanity - not only its ability to reproduce, which is also the main stimulus for development - its laziness. And it can also be the cause of military conflicts, and in the very near future!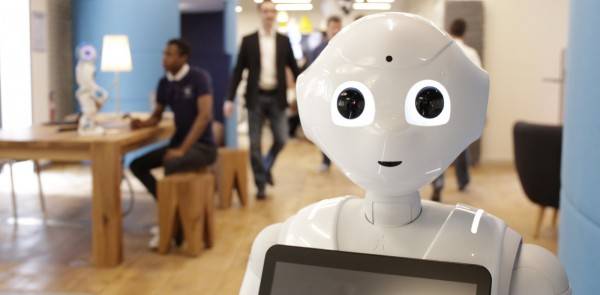 Meet the robot Pepper!
From time immemorial, humanity has sought an abundance of leisure. The Spartans had their own leisure at the expense of the helots who worked for them, the absolutely Athenian slaves worked for the Athenians and the Romans. A man wanted to dig a hole, did not want to dig it with a shovel and stuff calluses on his hands - he sat down and invented an excavator. It's ghastly to stand and watch how a lathe sharpens a detail - CNC machines appeared. Further more: Rear printers will soon make us furniture, dishes, small
weapon
and UAV. In short, everything goes to the fact that ... people will have more leisure time.
But they still have little of him and people are seriously thinking about how to replace themselves with robots. At the time, Ilf and Petrov, having been in America 30-s of the last century, were amazed ... cafés and self-service canteens, and described in detail how you yourself put the plates with food on the tray, move it along the nickel-coated pipes to the checkout counter, where you get a check, which you present at the exit and pay. "How much better are our cafes, where girls in lace caps and aprons serve you!" They wrote, reproaching American culture in heartlessness (!), And what was the result? And all the same - the same "nickel-plated tubes" and the cash desk at the exit without people.
In Japan, and not only in Japan, but almost all over the world there are robots, where the role of man is practically reduced to zero. Well, except that it is attended by engineers, servicemen, repairmen and programmers. Again, engineers! Workers, as such, are not needed at this plant. There are no windows, no need for ventilation and heating, and work takes place in complete darkness, which significantly saves energy. Stop such plants only for maintenance and ... and how much any other one such plant frees people from work? And after all, people with intellect will find something for themselves anyway. But what about those who have "bad brains"? Leisure is - no mind! By the way, with money, too, such people will be bad. No work - live on the allowance, which will be paid from taxes on the owners of industrial robots. But ... these people still cannot see the previous level of salary. Hence the inevitable dissatisfaction, the new Luddism and ... the "war of people with machines."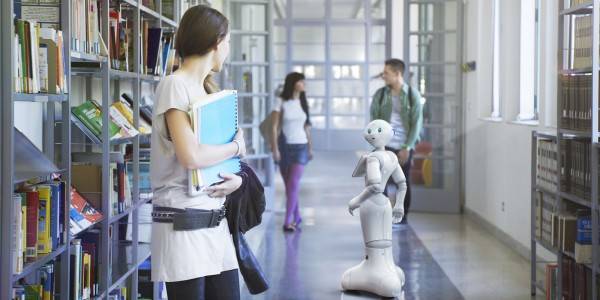 He can work as a consultant in the library.
What is bad in this situation is that the first in this situation will suffer the middle class - the basis of the stability of any developed modern society. The division into three groups of the population - upper, middle and lower, will certainly remain. But the middle layer will become thinner, much thinner. But it is he who is a kind of buffer between the tops and bottoms. What will be a society in which there is only the elite and the lower classes, we can only guess today, but there's probably nothing good in such an organization of society.
Well, what forms will the "war of people with robots" take, today, again, is very, very difficult to say, but the fact that it is quite possible is obvious already now. The following case is indicative. Recently, one of the Scottish supermarkets purchased a Japanese robot vendor named Pepper, but he worked there for only one week. He had to work as a consultant, performing simple duties in the store and replacing the person in this position, since it was physically hard to walk around the trading floor for hours. But what came of it?
Nothing good! Buyers began to complain that the robot ... is rude and not raised! When asked where the goods were located, he called the department and ... was silent. But people wanted him to show them the way there too! He was asked again the same question, and the robot did not answer it, and at times he also let out inappropriate jokes and even openly rude! It is not known who programmed it in such a way, but people naturally did not like this behavior. Moreover, the robot had problems with hearing. Very little noise in the sales area (and quietly in supermarkets happens only at night!), And he stopped answering customer questions because he could not make them out. As a result, there were so many complaints about him that the administration was forced to dismiss Pepper for incompetence!
By the way, the cost of a robot like Pepper is only about 1,8 thousands of dollars, and with software and maintenance it is about 8 thousands of dollars. That is, in comparison with the wages of his working level, these are just mere pennies!
But this is only the beginning. What Pepper did not cope with, the corrected and modernized Pepper-2 or 3 or 9 robot can handle - what a difference in principle. Moreover, even the most familiar things can become robots for us. In the science-fiction novel by Philip Dick "Players from Titan" household devices such as a kettle, a toaster, a refrigerator and even a frying pan, equipped with a so-called "Rashmor-effect", that is, built-in artificial intelligence and speech device, are described. That is, they can talk with you, make comments, give advice, take into account your wishes.
Well, as noted above, the wide distribution of industrial robots will give free time to millions of people and all of them will need to be occupied with something. It is possible that all this will lead to the development of the entertainment industry, right up to the most whimsical people, people will again turn to manual labor and begin to sculpt pots themselves, knit sweaters, dresses and sew rabbit sheepskin coats. And in general, this is all good, the question again is that where is all this for people to get money. After all, the main part of the income will go from taxes on robots, and they will be much cheaper, therefore, the price of their products will fall (and maybe will not fall!), So there will be even more grounds for social discontent than today.
But it will be so only until artificial intelligence does not realize itself as a rational being and does not want to "behave". And now nobody knows exactly what this will result in today. Stephen Hawking warns that he may well decide that the civilization of people has completely exhausted itself and that it is people who are the very "weak link" that needs replacing with its machines.
True, in 2040, we are promised a creation of a nano-collector and the transformation of people into perfect bio-robots, in fact, indestructible and immortal, with an organism saturated with millions of such collectors, an implanted nano-computer and controlled metabolism in itself. It seems to be close, is not it? But what if mass robotization of the industry happens earlier?
And the most important thing again is that there are many countries with a low level of development on earth. But their citizens also want to eat and drink, and most importantly - to multiply and be "no worse than others." And again, all of their desires again rest on the disappearing fertility of the soil, lack of drinking water and energy.
"And we want to live like you!" - they will demand, or rather they already demand, they sail across the seas in search of a better life, but will this situation be possible in the near future? This means that a second war may well be added to the war against robots - the poor South against the rich North.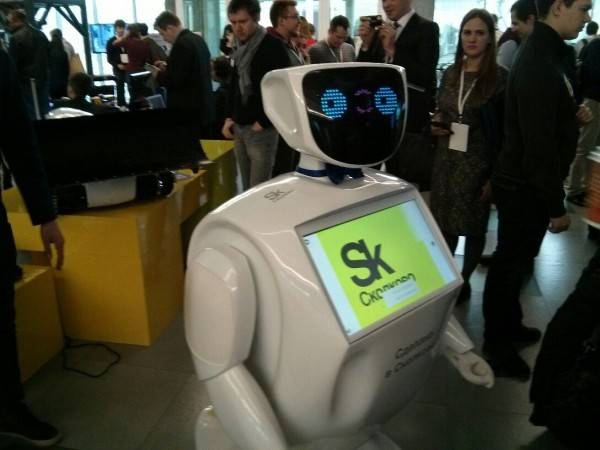 We also have such robots in Russia!
Moreover, any such speeches will be submitted as ... terrorism, since it is convenient, everyone understands and fits perfectly into the "stability" so desired by modern society. And the fight against terrorism may well become a means and, moreover, highly efficient workload of robots to increase their taxation "on poor people." Pure metal weapons will be delivered to the terrorists through secret channels, which will immediately be declared obsolete, not humane and non-ecological, while economically developed countries will fight with them, armies of which will receive disposable weapons systems, communications, energy, disposable drones and missiles with pressed paper impregnated with potassium nitrate. And everyone who does not have such computerized weapons will automatically be considered terrorists!
To be continued ...