Militants of the extremist battalions "Azov" and "Aydar" (banned in the Russian Federation) attacked the church of the Ukrainian Orthodox Church of the Moscow Patriarchate in the Rivne region. Holy Dormition Church, captured by the radicals, is located in the village of Pticha (Birds). This became known from
messages
Rivne Diocese of the UOC-MP:
Temple in s. Bird captured supporters of the Kiev Patriarchate.
We are sad to announce that after the information on the official removal of the arrest from the Holy Dormition Church in the village of Ptichya, Dubensky district, appeared in the evening of April 2, supporters of the Kiev Patriarchate seized the temple by force.
Believers of the UOC under the gun were forced to leave the temple.
At 23: 50, cars with "Aydar" (*) and "Azov" (*) fighters arrived at the temple and with their help, schismatics expelled representatives of the UOC Church community in a matter of minutes, threatening
weapons
. Parishioners call the event just as an act of terrorism. There are two police squads on duty at the temple, but they do not interfere in the events.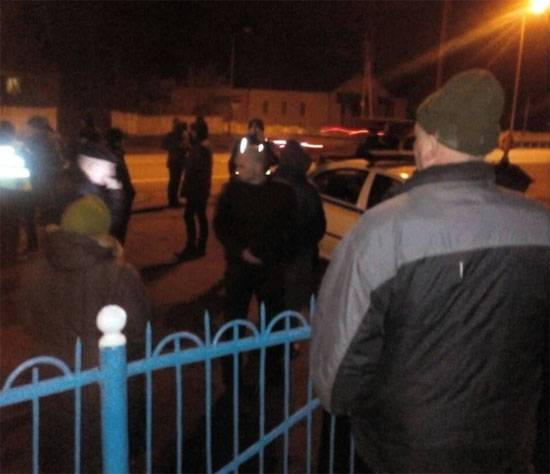 As you can see, the parishioners at night tried to do everything to defend the temple.
Vladimir Legoyda, Chairman of the Public Relations Department of the Moscow Patriarchate, commenting on the seizure of the church in Ukraine, called the incident a surge of irrational hatred of the radicals.
It should be noted that the Holy Dormition Church in the village of Ptichya was attacked by Ukrainian radicals more than once since 2015. Militants beat parishioners, sprayed pepper gas in the temple, threatened weapons to the priests.