By the end of the year, the Brazilian company Embraer will deliver several new KC-390 transporters to the country's air force. According to Defense Aerospace, these aircraft will participate in certification tests, the results of which the military will decide on the formulation of transport workers.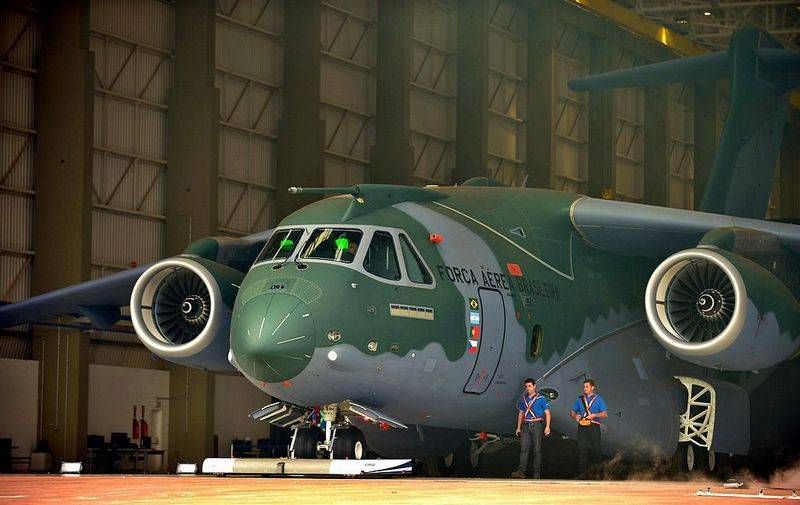 As part of the certification flights, the Brazilian Air Force will check KC-390 for in-flight refueling, transportation and cargo dumping. In addition, the military will appreciate the reliability of the onboard systems of self-defense. During air refueling tests, the KC-390 will both pump fuel to other aircraft and refuel itself from the tanker aircraft.
The KC-390 military transport aircraft is being developed by Brazil since 2007, with the participation of the Czech Republic, Portugal, Colombia and Argentina. Preliminary design of the KC-390 was completed in the 2012 year. In October, the first prototype rolled out at Embraer's Gavian-Peixoto State of São Paulo in October. The first flight of the aircraft took place in February 2014.
The KC-390 is 33,4 meters in length, 11,4 meters in height and wingspan - 33,9 meters. The maximum take-off weight of the aircraft is 81 ton. The transporter is designed for the carriage of goods or fuel weighing up to 26 tons. The aircraft is able to reach speeds of up to 850 kilometers per hour and fly over a distance of up to five thousand kilometers.
Brazilian Air Force plans to adopt a new aircraft before the end of this year. KC-390 is the heaviest aircraft ever developed by Embraer, reports "N + 1"