Exactly a year ago, a terrible tragedy shook Russia - a terrorist act in the St. Petersburg metro. A year after the attack, representatives of the Investigative Committee of Russia report that the entire chain of persons involved in the terrorist attack has been established.
Recall that the explosion in the metro train between the stations "Technological Institute" and "Sennaya Square" thundered in 14: 40. The train driver did not stop the train in the tunnel and brought it to the nearest station. It saved dozens of lives. The investigation found that the perpetrator of the attack was a native of Kyrgyzstan, who had previously received Russian citizenship, Akbarjon Jalilov. As a result of this attack, 16 people died, including Jalilov himself. 66 people were injured.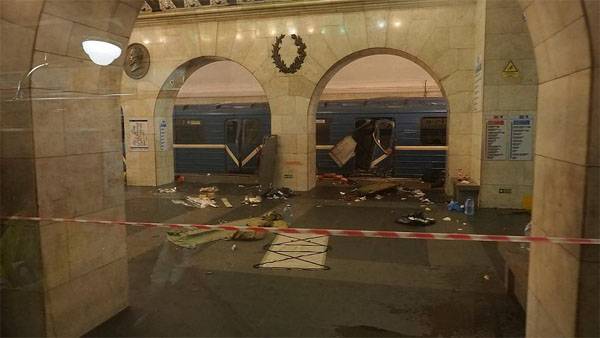 Recall that on the same day another explosive device was discovered at the Ploshchad Vosstaniya metro station. Its capacity was up to 1 kg of TNT. The timely detection of this bomb has saved dozens more lives.
In the TFR stated that all involved in the commission of the terrorist attack in the St. Petersburg metro are in custody. We are talking about 11 accused. It is noted that the entire gangster chain was identified in the course of joint work with the Federal Security Service of Russia.
From the TFR message:
This attack was committed by one of the radical Islamist terrorist communities. Of particular difficulty was the fact that the customer, the organizer and the perpetrators of the terrorist act were not even familiar with each other and kept in touch through modern means of communication. It is a thorough analysis of the so-called "electronic traces" that remain with such methods of communication, allowed in the shortest possible time to expose and identify all members of a criminal group.
It was found that the terrorists coordinated their actions through instant messengers. It was by deciphering these messages that the entire criminal chain was revealed.