Recently in one company I saw a wonderful collection of knives. Wrong Chinese "
historical
"movie toys, which are littered with counters in city markets, and real knives made by skillful hands of gunsmiths are literally a piece.
I, to confess, anxiously treat this mind
weapons
. Yes, precisely weapons. I will reveal a little secret, which only experts know about. In any television series where a restaurant or cafe is shown, more recently, a policeman could freely take a chef by the knife. Yes, yes, the chef's knife in the usual restaurant kitchen was, according to our standards, a classic fighting knife.
In my childhood I always looked at my father's hunting knife. In principle, as I understand it today, a knife is ordinary. Yes, big. Yes, with a serious blade. And steel is serious. But most importantly, the knife was numbered. The knife was part of the hunting ammunition, the same weapon as the gun! I managed to hold on to him only while my father was cleaning and nurturing his "Izh."
Memories of childhood and some knowledge of the Criminal Code, and, to be completely honest, unwillingness to undergo numerous checks to obtain permission to store weapons at home, were the main obstacle to creating your own arsenal of cold weapons. A good knife, according to the previous classification, always fell into the category of weapons.
Yes, I still have knives. Good hunting knives. Factory made of fine steel, with handles of the most exotic materials. From African trees and goat legs to ... denim. But for all these knives, I have stored examinations carried out at the factory, in which these knives are not recognized as weapons. And when I go hunting or fishing, I take these papers with me.
Those who are interested in cold arms are well aware of this trick of the manufacturers of knives. At the cunning prosecutor there is always a more cunning lawyer. A large knife, equipped with a hook for ripping up the hides, for example, will not be recognized by experts as a weapon. In the same way, the law can be circumvented, again, for example, by the thickness and angle of inclination of the blade, by changing the butt and other things.
Today in the market you can find really deadly weapons, which is not a weapon. Many people have seen machetes, Finns, "painters", "miscarriages" in shops ... Grandmother on the train, cutting the sausage with a knife with an 20 blade, see, no one is surprised. You will buy such knife on the platform of the next station in the kiosk. Next to the same sausage.
But back to the collection. On the wall there were real ones, not new replicas, Cossack swords and an officer's broadsword. Here I could not resist. The weapons of the Cossacks just can not be brought under the "lawyer" stuff. And any change in drafts, even intentional blundering, will not change its purpose and classification. Just make a fine specimen ...
What happened? Why is cold steel now in law? Korotkostvol, sports and historical weapons, reconstructive remakes have become illegal, and the saber quietly took place on the carpet?
It turned out ... blame the law "On Arms"! More precisely, those amendments, which began to operate since January 1 2018. Long-suffering law №150-Ф3. The last 5 years around it just did not drive dances. 75 attempts to amend the law. Ponder 75! And 38 corrections made!
I talked to an employee of the licensing department of our ATC. You cannot quote him (in Russian, the lieutenant colonel expressed himself). The essence is this: yes they went, these legislators! Are there no professionals at all? Okay, they adopted new standards, developed documents, trained people. Wham, again something is "lawful". Complete chaos at work.
So, the new rules actually legalized melee weapons. Hunting, historical, culturally valuable edged weapons no longer need to be licensed. In fact, any author's copy of a saber, checker, knife or something like that can be considered "having cultural value." Single copy! And my friend does not violate the law! Checkers royal times, it means historical weapons.
I understand perfectly well that now they will remind me about my grandmother on the train with a cleaver and sausage. Is such a "knife" not enough to pierce a person through? Yes, it is a toy. Yes, this "knife" in a week turns into a piece of nasty metal and plastic. But for once it is enough. 150-200 rubles in any kiosk, and you are again the owner of a deadly weapon.
I agree. The problem of "toys" exists. And for some reason it is hushed up. How to ignore the problem and cold weapons in general. Meanwhile, it is cold weapons, including "toys," that cause 38,3% serious bodily harm, 27,6% unintentional kills, 22,4% total number of murders!
Moreover, after talking with people who more than once "went to the knife," doing their job, I fully support the view that we should expect an increase in the number of crimes with the use of knives.
The bulls don't care. They need a weapon to commit a crime. In the previous edition of the Law on Weapons, it was a crime to carry both firearms and cold weapons. Naturally, other things being equal risks, crime chose firearms. Chose as a more effective weapon.
Today, the "boys" will be completely legally wearing "feathers" and will be law-abiding citizens. In this case, even a poorly prepared "bull" with a knife "paint" the unprepared man in the street in minutes. And the school of "boys" with knives will quite cope with a trained person.
Something our duma members have not thought out. The arsenal of serious weapons is now in the hands of not only collectors and hunters, but also criminals. Even attempts to reduce the danger by using different scabbards, holsters, and special cases for carrying such weapons will not lead to a reduction in danger. This is not a hunting rifle that can be disassembled.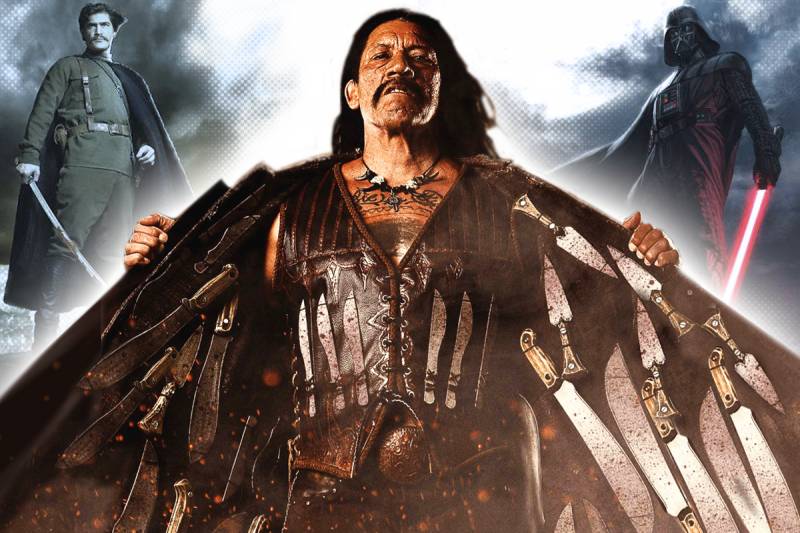 Of course, it's difficult to imagine a modern "tale" with swords, sabers and axes. A horseman with kama? Or Uzbeks with a pack? Yakuta with khotohon? Maybe it's hard to imagine a Cossack with a sword? Melee weapons used for silent killing.
Given the current state of society, even if a person is injured, a person has little chance of survival. He himself has repeatedly witnessed a completely disregard for the fallen, even before our eyes, man. There are fewer and fewer people in the normal, spiritual understanding of this term. My hut on the edge ...
There is one more argument that is necessarily used when discussing this problem. Household murders with the use of kitchen knives.
At the beginning of the article I already wrote about the chef's knife. There is something similar in our kitchens. However, any specialist who is engaged in cold arms will tell you with confidence that the effectiveness of a defeat or a hunting knife is several times higher than that of kitchen counterparts.
The penetrating ability of such knives is several times higher, and the injuries are more serious. I specifically looked at the statistics and expert assessments on this issue. Incredibly, mortality when using combat or hunting knives compared to household knives is 8 times higher!
In general, it seems to me, the amendments to the Law on Weapons did not so much improve the lives of hunters and collectors, as the law enforcement authorities tied up in the fight against crime. "Wolfie" with knives will soon take to the streets.
There is an urgent need to return the criteria for determining combat edged weapons, licensing collections and criteria for manufacturers of replicas of edged weapons. Hunters-hunters or hunters of large animals, and this is clearly not the first year of the boy, making a serious hunting knife in the permit to store weapons is not particularly stressful. And you need to start at least with the length of the blade.