Presidential Aide Yury Ushakov gave some details of a telephone conversation between the presidents of Russia and the United States. The conversation took place on 20 March. According to Yuri Ushakov, who spoke at the briefing, US President Donald Trump suggested that Vladimir Putin hold a bilateral meeting.
Recall that since Trump was elected President of the United States, his meetings with Putin were held only on the margins of various summits and were relatively short-lived.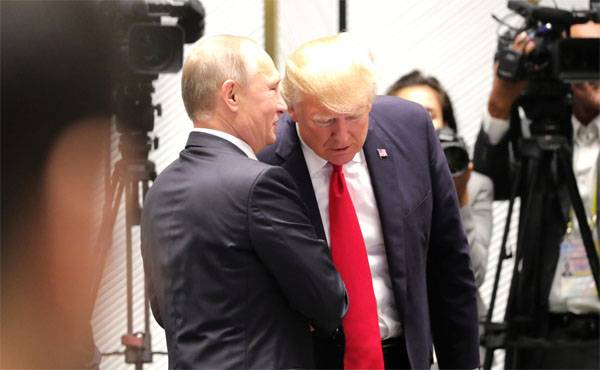 Yury Ushakov noted that Trump invited Vladimir Putin to a meeting at the White House.
RIA News
cites a statement by a Russian official:
If everything goes well, I hope that the Americans will not give up their proposal to discuss the possibility of holding a summit. When our presidents talked on the phone, Trump offered to hold the first meeting in Washington, in the White House.
Ushakov added that the possibility of meeting the presidents in the first half of this year was not discussed. Apparently, we can talk about the visit of Vladimir Putin in Washington after the official entry into office and the formation of the government.
Yury Ushakov added that, despite the constructive dialogue during the conversation of the presidents of the two countries by phone, the United States went to a new anti-Russian demarche a few days later with the expulsion of diplomats and the closure of the consulate in Seattle.
Ushakov:
We were forced to apply mirror measures.
You can represent what kind of howl russophobes in the United States will raise if Vladimir Putin really decides to meet with Donald Trump in the White House.