The new Russian intercontinental rocket RS-28 "Sarmat" is planned to be put on combat duty in 2021, transmits
Interfax-AVN
.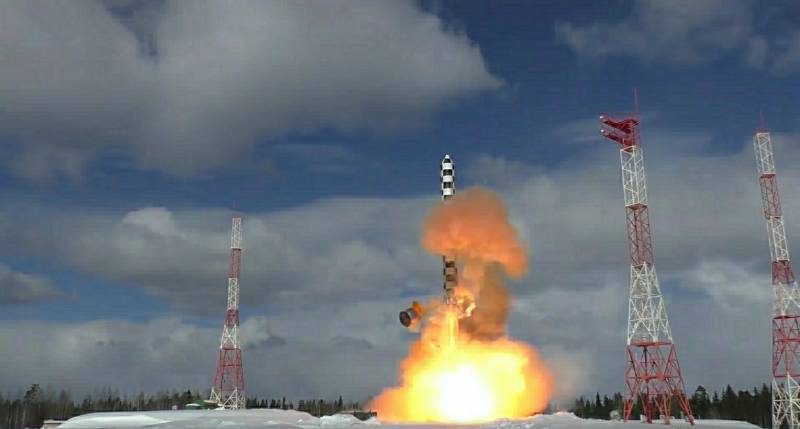 From 2021, we can expect the deployment of this complex in the Strategic Missile Forces,
said the consultant to the agency commander of the Strategic Missile Forces, the former chief of the main headquarters of the troops Viktor Esin.
This year will continue the missile missile tests.
Then move on to flight tests. It can be expected that flight tests will begin either at the end of this year, or at the beginning of the next. The calculation is as follows: by the end of 2020, to complete these flight tests with acceptance into service,
explained the general.
According to him, "the characteristics of Sarmatian are significantly higher than those of Voivode (PC-20В), the combat equipment of Sarmatian is fundamentally different in terms of the possibilities of a missile defense breakthrough - not only modern, but also promising."
MBR "Sarmat" developed by the State Rocket Center. Makeeva (Miass, Chelyabinsk region), its mass production will be established at the Krasnoyarsk Machine-Building Plant. The launch weight of the rocket will exceed 200 tons.
It can fly both through the North Pole and the South Pole due to the fact that it has significantly increased the range of use in relation to the Voivode. And the ability to display a serious payload allows us to use various "stuffing" - combat units, which together with heavy false targets quite effectively overcome all kinds of missile defense elements.
- Deputy Defense Minister Yury Borisov was telling the newspaper Krasnaya Zvezda.
Recall, last Friday, the military reported on the next throwing tests "Sarmatian" at the Plesetsk cosmodrome. Earlier, the commander of the Strategic Missile Forces, Sergei Karakaev, clarified that during the test it was planned to work out the release of the rocket from the mine and the launch of the cruise engine.
The first throwing test of the ICBM took place at the end of December last year.