The Indian Defense Research and Development Organization (DRDO) has been concerned with the implementation of a program to improve the security system of military facilities. Representatives of the organization say that the system needs to be improved for the reason that the terrorist threat has recently increased.
It is noted that in the past few years alone, terrorists have made at least 12 attempts to attack Indian military targets (primarily at the borders of the disputed state of Jammu and Kashmir). In DRDO add that the terrorists are not going to be limited to attacks solely on military facilities themselves.
From the statement:
They are also willing to choose unprotected targets, for example, residential neighborhoods in which servicemen live with their families.
DRDO
introduces the technology of unmanned vehicles and other modern technological solutions for monitoring the situation at military bases and in their immediate vicinity. Thus, an experiment is being conducted on the use of new monitoring and protection tools at a military facility in the southern part of the country. In the newspaper
Tribune India
published material that the military facility will be surrounded by a "laser wall", radar, as well as vibration sensors. All information flowing from these sensors is analyzed in a special center, and as a result a decision is made on the choice of actions in the event of a threat.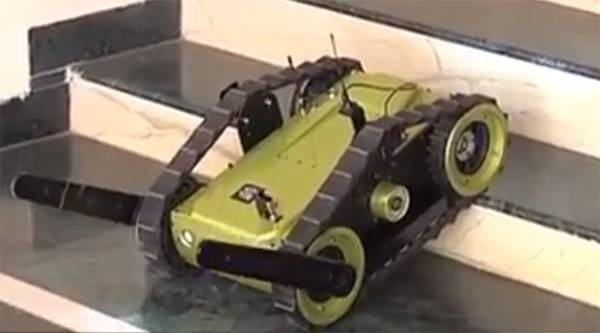 Additionally, a ground-based "unmanned" vehicle was presented to DRDO, which could be advanced to the scene at the perimeter to confirm or refute the information about the threat. The ground drone (UGV) has a video camera that transmits information to the center in real time.
Added by:
The ground drone has no lethal weapons.
Dimensions UGV - about 45 cm in length and about 30 cm in width.