In an interview with FOX News, which, after Donald Trump came to power, turns into the first
news
US channel, Russophobe senator Lindsay Graham once again stated that Washington needs to tighten its policy on Russia. Graham said the US should "give a tough rebuff to Putin."
From an interview with Mr. Graham:
The problem, in my opinion, is that Russia has definitely fallen off the chain. We do a lot, but it doesn't work. And in a strange way, the president is having difficulty openly repulsing Putin.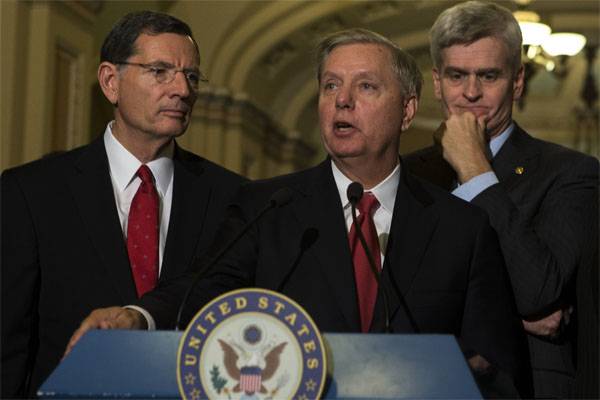 As can be seen from this phrase, the US senator recognizes that, in principle, no American measures imposed on Russia are working. And we are talking about the real tsunami of sanctions, restrictions and attempts to exclude the Russian Federation from the expanses of the world market. And this tsunami, as representatives of the American government circles dreamed, was supposed to "wash away" Russia a couple of years ago. More precisely - Vladimir Putin.
And still it is necessary to ascertain that in the USA they are accustomed to consider Russia "sitting on a chain".
Lindsey Graham:
We need to act more actively. For example, deprive Russia of oil revenues. How? We will offer alternative sources of fuel.
Apparently, Graham does not know that over the past 12 years, the dependence of the Russian Federation on the sale of hydrocarbons abroad has almost halved. At the same time, year after year, Europe marks new and new records in the volume of purchases of oil and gas from Russia, which in turn speaks only about one thing: American "alternative sources" from Europeans are not in high esteem.