Last week, an article by Roman Skomorokhov was published on "VO"
"What is closer to Russian: totalitarianism or democracy?"
. The publication forced me to reflect on the optimal form of power for Russia, and now, I hasten to share with my dear readers the fruits of my thoughts.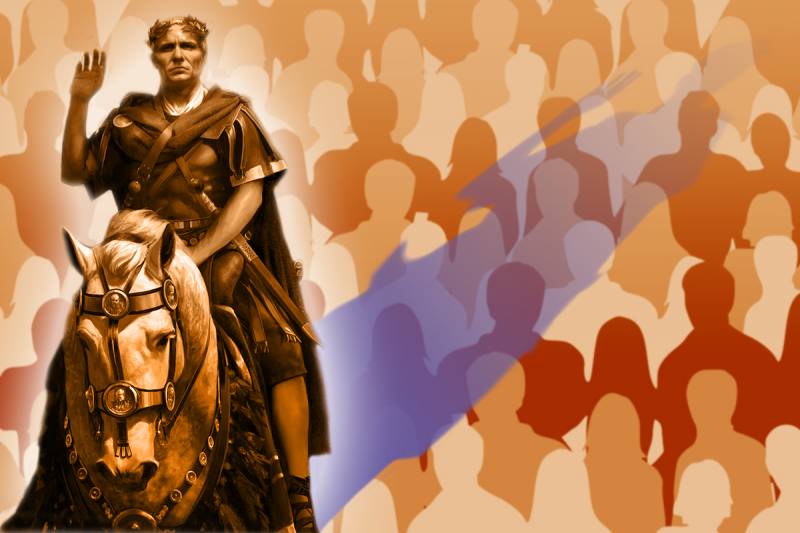 In order to decide on the best form of governing Russia, it would be nice to begin to understand what we want from those in power? What, in fact, we want to receive from the leadership of our country, region, settlement, in which we live? In essence, only one thing - effective management, aimed at meeting our needs. What are our needs?
We want to be protected and therefore we expect that our state will have capable armed forces, police and special services. We want the rule of law, before which everyone should be equal, because otherwise the "untouchables" will indiscriminately rob us and violate our rights. We want to be healthy and therefore we look forward to a network of efficient hospitals and pharmacies that can provide assistance and treatment at the level of the best world standards. We want to be educated and therefore we are waiting for high-quality education in schools, secondary and higher educational institutions, etc. - again, focusing on the best international results. This does not mean that we want to copy someone's techniques (although sometimes it is possible), but we want the child, after graduating from the national school, to be in no way inferior (or better) superior in terms of knowledge and ability to apply them. same baby from usa, china, korea etc.
We want to work and receive for it a fair fee, comparable to that in other countries, and a decent retirement when old age comes. But we do not want to become slaves of the machine tool or the desktop in the office - because we want fair labor laws governing our relationship with the employer. And we also want comfort in domestic, everyday conditions - quality consumer goods at an affordable price, good roads, apartments that do not have ceilings and pipes, clean water from taps and shops within walking distance, places in kindergartens for our children, efficient service and so on.
In other words, we want quite a lot and, of course, not all of what we need, we can demand from the state. But still, our expectations from the government are rather weighty. For example, in order to rely on high personal incomes, it is necessary to ensure the efficiency of industry and agriculture at the level of the countries on whose wage levels we are oriented. Strictly speaking, this is the task of business owners, but in order for them to solve it, it is necessary to put them in equal conditions with foreign manufacturers - that is, collect the same (as a percentage) taxes from them, provide them with equally affordable and cheap loans, protect them their interests, just as they are protected in other states, to ensure a comparable level of development of science, to ensure an effective system of personnel training, and so on — and this is already the task of the state.
We want a lot, but we are not parasites - we are ready to serve in the army, ensuring the security of the country, and we are ready to pay fair taxes from our honestly earned funds so that the state can provide us with what we want from it. After all, everything in our life is interconnected. Create conditions for industry and agriculture - business will start developing, business will develop - full-flowing rivers of taxes will pour into regional and federal budgets, funds will appear for many things that were previously inaccessible, etc. The efficiency of production will increase - wages will start to grow, wages will grow, people will have additional money, which they can spend not on basic necessities, but on something else - and then small business will start to develop, for it will be solvent demand.
In general, in the area of ​​state responsibilities, we are "for all good against all bad".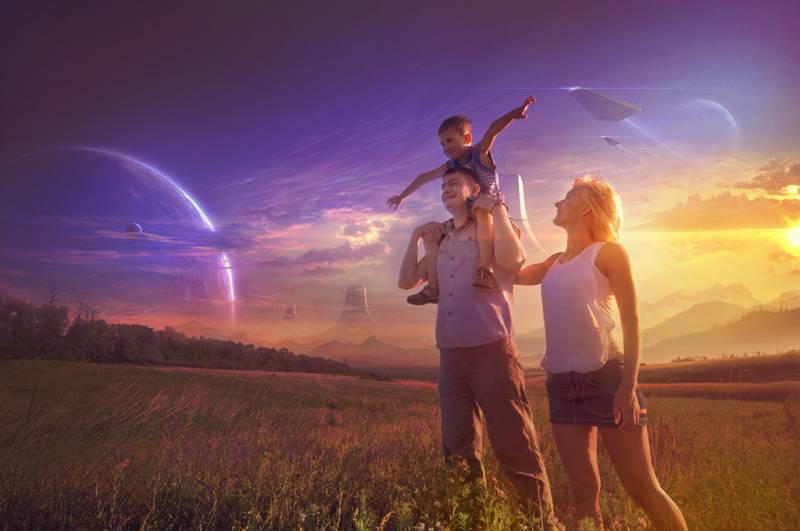 It is clear that this is not the case in life, but it is still necessary to strive for it.
What determines the effectiveness of governing the country? Actually - from the same, why and efficiency of management of an ordinary enterprise. Of course, the scale and complexity are not comparable, but the management principles do not change. They are, in fact, simple and intuitive: you have to choose people, make them responsible, set tasks for them, provide them with the necessary resources and monitor their implementation. Everything!
If a little more, then at the enterprise it looks like this:
1) The company should be managed by the best, most qualified top managers you can find;
2) These top managers should be given correct, measurable and very specific tasks. This means that a measurable condition for accomplishing the task should be formulated (to increase sales of the plant's products — say, autogredders, from 100 to 115 units per month), the deadlines for its execution (January 2019 g), responsible for its implementation (commercial director);
3) These tasks should be split (by top managers themselves) into a roadmap. In our case, this may be the case –– by June 2018, go to sales of 105 motor graders a month, by October 2018 - 110, and in January 2019 - sell 115 graders;
4) Then, it is necessary to determine the necessary measures and resources for the implementation of the road maps (participation in two additional exhibitions in May and September 2018 g, cost 300 thousand rubles each, increase in the sales department staff by one employee no later than May 2018 and etc.) are determined by their sources of funding, responsible. In this case, for example, the selection of another employee will fall into the "roadmap" of the personnel director, the search for funds to pay for participation in exhibitions - into the "roadmap" of the financial director;
5) The implementation of the "road map" should be strictly monitored; in the execution of its stages, the top manager should be encouraged, if not, punished, if systematically not executed — replaced by another;
That is, in fact, all the art of management, from the point of view of the president of any commercial company. Or the president of any country.
What is measurability and deadlines for the task? In order to be able to give a clear assessment of the results of human performance. What are the road maps of the plans for? Firstly, in order to provide the executor with the necessary resources to complete the task, and secondly, to identify problems in advance, because if the roadmap is not executed at some stage, then the final task will not be completed, least - in time. What is the encouragement and punishment of employees? Alas, but the overwhelming majority of the most well-known and talented managers quickly cease to be so in the absence of stimulating their activities. There are people who will plow in and achieve results, even if they are not encouraged for it, but there are very few of them. And finally, no top manager is worthless, and is important only as long as he is able to perform the tasks assigned to him - if he does not cope with them, he should be dismissed, giving the opportunity to work to someone who is able to cope.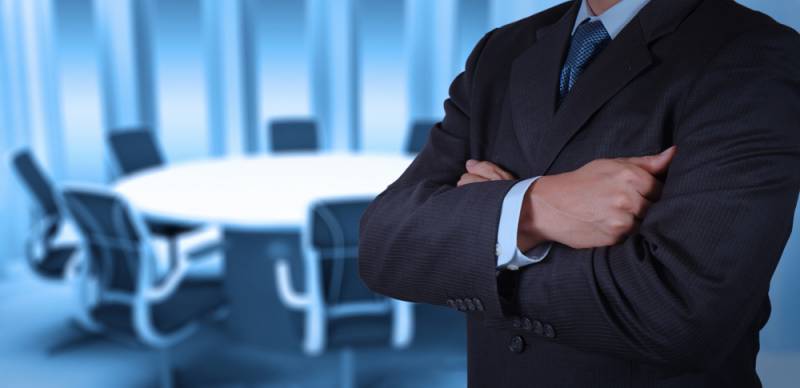 The role of the country's president is also very similar to the head of the company. Let's pay attention - the president controls a gigantic country, the general director of the plant is an enterprise numbering several thousand, rarely tens of thousands of employees. But even the plant manager does not have sufficient competence to "steer" the plant alone. He cannot know sales, as his commercial director, equipment - as the chief engineer, the chief mechanic and the power engineer. He cannot know the technology, as the chief technologist, the economy, as the head of the planning and economic department, etc. Often, the general director of the plant is a person himself and some service (say, the former chief engineer) and then, of course, he knows this area of ​​responsibility perfectly well, but in all the others he is still not a professional. And so, not being a pro in sales, supplies, personnel management, recruiting, etc., he nevertheless must pick up professional and effective assistants — heads of relevant areas — and then motivate them, control their work.
The work of the president is a hundred times harder. Because the plant director, not being a professional, still has a certain understanding of the work of other services of his enterprise, but the president of the country has to manage, including what he has no idea about. In whatever area the future president "rotates" before taking up the highest post in the state, he cannot, in principle, know the peculiarities and "inner kitchen" of foreign policy, diplomacy, science, education, medicine, military affairs, economics, etc. etc., that is, the entire area of ​​its responsibility.
In other words, a key factor in the success of a president is his ability to understand people - he should be able to appoint the right people, set tasks for them and control their implementation even in areas of which the president himself has a very superficial idea. Therefore, in fact, the thesis "The president is good, but the boyars are bad" is absolutely absurd, because who, if not the president, is responsible for appointing the "boyars"? If someone (commercial director, chief engineer, etc.) works poorly at the plant and disrupts the fulfillment of goals, who will be to blame for the owner? It goes without saying that the past top manager, but along with him - the CEO, and even, first of all, the CEO, because he hired (or did not dismiss on time) an inefficient manager. And how personally the general would not be good, so to speak, personally, but if his tops are constantly disrupted by the tasks assigned to them, then the "general" will be fired or lowered as not corresponding to the position held. His work is not his personal work activity, but the correct selection and motivation of other leaders, and if he does not cope with it, then he is dismissed.
But there is another aspect. Take the same factory director, let's say he is not satisfied with the commercial director and he is looking for a replacement for him. Who will the director choose? Of course, you can see if it is not suitable for the role of the commercial director of his deputy. There are more resumes selected by the HR Director, perhaps the CEO himself knows some good commercial director working in another company and may try to lure him to him, but that's basically all. At the same time, it cannot be ruled out that there is a person in the sales department who makes an excellent commercial director (but not a deputy), and the director doesn't know that the recruiters missed or mistakenly sifted out a remarkable candidate, etc. - that is, the CEO will choose the new commercial one that is not the best of all those who can apply for this position, but the best one from those who came to his attention. And it's not a fact that this will be really the best, since the CEO does not have the necessary qualifications in commerce to understand which of them is better than the rest. The same is true for the president of the country - he chooses any manager not from all those who deserve this title, but only from those whom he knows about, who came to his attention.
From the foregoing, we can draw the following conclusions. State management will be as successful as possible if it is headed by a person who is extremely well versed in people, and in his entourage there will be many talented managers who are professionally versed in what they manage (ideally, having gone all the professional way in their field of work from its lowermost steps). After all, if the president is surrounded by professionals in his field, then even his wrong choice will not lead to fatal consequences.
And now we have to state the following:
1) The ability to understand people, alas, is not inherited and is not a discipline that can be learned from books. This is a talent that a person either possesses or does not. Of course, even the most inattentive, incapable of distinguishing truth from falsehood and not knowing how to understand people, can learn a lot, but still it can never be compared with someone who had a natural talent in this field and developed it. In stating this fact there is nothing offensive, because not all of us are destined to be born Einstein or Leonardo da Vinci.
2) The ability to manage and professionalism is also not inherited - just like the ability to understand people is a consequence of innate talent, perseverance, efficiency and healthy ambition. There is no doubt that the children of the ruling classes have, as a rule, the best education and great opportunities to learn how to manage science, but this does not mean that they will take advantage of them. As a result, it may well turn out (and often in practice it turns out) that the chief engineer, whose parents were ordinary employees and who began his labor activity as a foreman in the shop, and even ordinary workers, is capable of managing the factory to give 100 points to a graduate of a prestigious university. England, never went to the shop at all.
In other words, neither professionalism nor the ability to manage and understand people are the prerogative of the elite of the ruling class. Quite often it turns out that the best of the best have a completely non-elite origin. Recall that George Washington, the first president of the United States, was born into a family of a land surveyor and left without a father early. Joseph Vissarionovich Stalin, as you know, was the son of a shoemaker, and Vissarion Dzhugashvili was stabbed to death in a drunken brawl when his son was only 11 years old. Many today consider Vladimir Vladimirovich Putin to be the biggest figure in the newest
stories
, but let us remind ourselves that his father fought as an ordinary fighter in the Great Patriotic War, and after the war he was a master at the plant. Yegorova. Without any doubt, Vladimir Spiridonovich Putin lived a life worthy of every respect, leaving a bright memory of himself, we note only that his son, Vladimir Vladimirovich, is not from the "power" class, to which party nomenclature could be attributed to the USSR .
All of the above, of course, does not mean that the children of the elite are always unworthy of their ancestors - such great statesmen as Franklin Delano Roosevelt and Winston Spencer Churchill had the most elite origin. But all of the above boils down to the fact that power should not be inherited within the ruling class. Other things being equal, the state that can provide a "social elevator" will be more successful - conditions under which people from all classes of society will get into power due to their personal qualities, and not origin.
Without a doubt, no state structure can provide equal conditions, and in the race for power, the children of the elite will always have certain starting advantages - parental instincts are ineradicable, and it is clear that the elitist will try to provide their children with good conditions for life. However, children of other classes of the population should not care, even if it will be more difficult for them.
And now let's ask ourselves - what is democracy? In theory, it is a completely wonderful thing (as much as theoretical in general). The literal translation of democracy is the "power of the people." Today representative democracy is widespread: it is a form of government in which citizens are granted the right to make political decisions, and this right is exercised through elected representatives.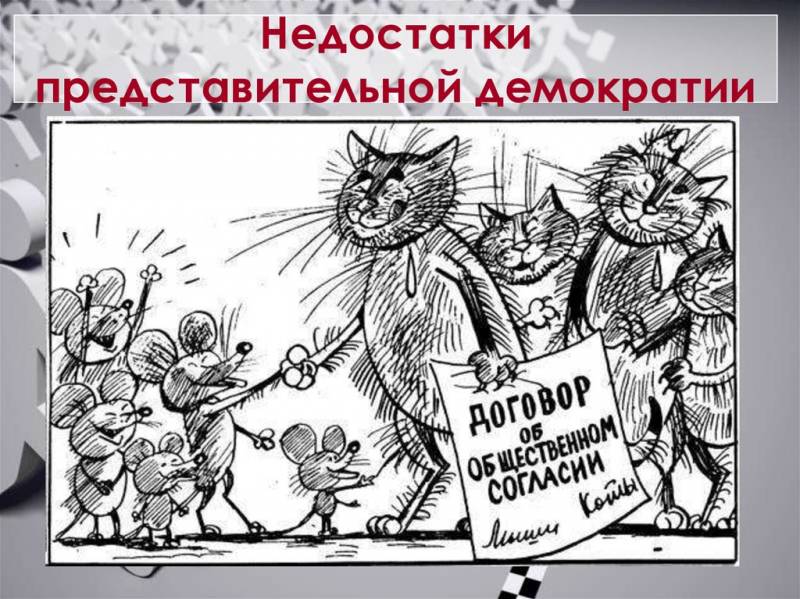 That is, people choose those whose convictions they share and trust them to decide for them. In theory, democracy is the power of the majority; this power is based on the equality of the rights of all citizens before the law, but is also limited to it. In a democratic society, election winners cannot begin to persecute those who have chosen the "wrong" candidate, to ban religions only on the grounds that they do not coincide with the majority religion, and so on. In other words, a democratic society follows the choice of the majority of its citizens, but, if possible, without compromising the rights of the minority. In general, as Voltaire said: "I hate your beliefs, but for your right to express them, I will give my life."
What is good democracy? By the fact that it (again, in theory) provides the best opportunities for the "social elevator" to the widest possible sections of the population. There is no doubt that "social elevators" are also present in other forms of government — with feudalism and autocracy, for example, it was possible to earn the nobility and thereby enter the elite of society. Under Napoleon, there was no democracy and no freedom of speech, even in principle, but the social elevators worked perfectly: "In the satchel of every soldier lies the marshal's baton." In general, with any form of totalitarianism, faithful service could be rewarded with high appointments, but here there is one important nuance: in all these cases there was a certain ruling class that established the rules for joining the elite. And since he also controlled the implementation of these rules, then, by a "strange" coincidence, it became extremely difficult, almost impossible, to become "worthy" without belonging to the ruling class. And even if there were individual geniuses (like the same Napoleon) capable of shaking up the elite and forcing it to "renew its blood" as it should, then after one or two generations everything returned to normal. In general, quoting Bonaparte:
"It is in the interests of the state that officials constantly change: if this principle is not respected, inevitably there will be specific tenure and seigniorial justice"
Democratic elections to a large extent limited the ability of the ruling class to "stew in their own juice" and therefore, in the end, the most developed European countries and the United States came to a democratic form of government.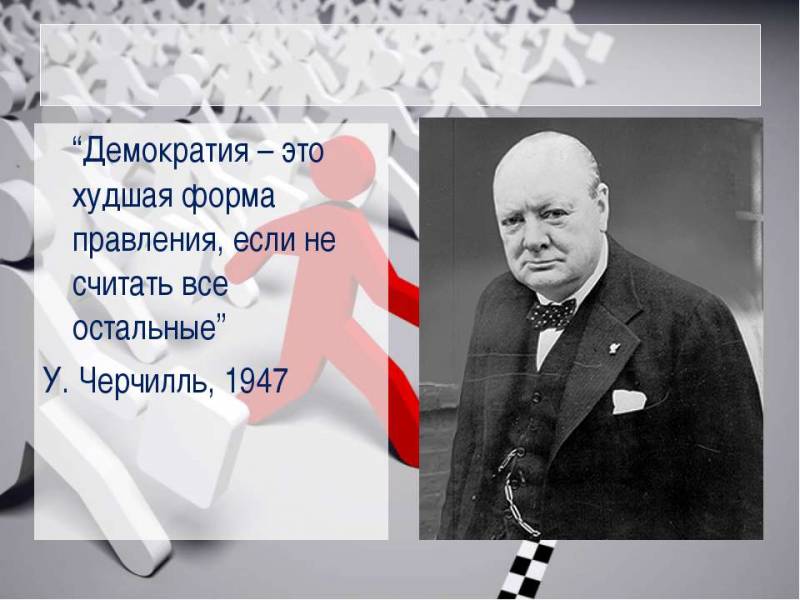 What are the disadvantages of democracy? First of all, democracy itself is not a panacea, and it begins to work in some acceptable way only with a certain, existing structure of society. The fact is that how many do not say "democracy", but the ruling class still exists both in the USA and in Europe (today it is the bourgeoisie, may those who do not respect Marx and F. forgive us forgive this Marxist-Leninist revolution Engels). Any ruling class seeks to expand its power and with great difficulty reconciles with its limitations - this is generally in the nature of power.
And it is very easy to profanish the election. You can offer "elections without a choice" when only one candidate is presented for whom it is worth voting, and the rest are no more than statisticians, which clearly do not correspond to the positions for which they are applying. Or offer a few "manual" candidates. Or ... in general, the possibilities of mass.
Of course, no one forbids self-promotion. But who, not being a capitalist, will be able to master the cost of even the most mediocre advertising campaign of a presidential candidate? Moreover, even if suddenly there is someone who can gather people and put forward his candidacy, he can always be removed from the elections on a formal basis (this is not an allusion to Navalny - his conviction is in no case a "formality").
Therefore, democratic elections only begin to work effectively as a "social elevator" when there is a multi-party system of competing elite political groups in the country. And if their potentials are approximately equal, the situation is so stable that they cannot be seriously shaken even by the defeat in the elections, and the difference in interests is so deep that it only allows temporary, tactical alliances with the opposing party, but does not allow them to unite for a long time, then their influence to a certain extent neutralizes each other. Then they are forced to use the opinion of the people, like that straw, which is capable of breaking the back of an opponent camel.
Of course, this is completely unlike the "theoretical" democracy that we read about in textbooks, but in this state of affairs all these Whigs and Tories, democrats and conservatives, are forced to a certain extent to take into account the opinion of the people and take it into account, and the need to be effective and strong, not weaker, but better - stronger than the opponent, pushes the need for a team of effective managers. And then it doesn't matter where they come from (again - to a certain extent), and this need creates the social elevators for power we are talking about.
If there are no such historically established, opposing each other parties, then democracy very quickly turns into the Chapito circus, and this is even better. At worst ... You should never forget that Adolf Hitler received absolute power in the country based on the results of the 19 August 1934 democratic referendum, during which the democratic German people democratically handed them the power of 84,6% of votes. By the way, this triumph of democracy took place already after it was adopted, given and occurred:
1) The decree "On the protection of the people and the state", which repealed seven articles of the constitution, restricted freedom of speech, press, assembly and rallies; allowed viewing correspondence and tapping phones;
2) Banning the Communist Party and arresting 4 of its thousand members;
3) Permitting the government and the Reich Chancellor to make laws (which only the Reichstag could have done before), and these laws could contradict the constitution;
4) "The Night of the Long Knives" (more than a thousand SA attack aircraft were killed without trial).
At one time, there was a lot of talk about the need for democracy to "grow", that only a "mature" society developed in its development, fully aware of the values ​​of freedom and universal equality, can be truly democratic. Maybe it is of course so, but we see that in the "developed and mature" countries, democracy today is not a guarantee of the equal rights of citizens before the law. If you are a white, heterosexual citizen, a good taxpayer, then of course you have your rights. But, having met with a black refugee homosexual in court, you suddenly become convinced that his rights are significantly more "right" of yours.
Sexual coercion is one of the most repulsive forms of violence, and, of course, no healthy society can and will not condone such. But if we start to record a "gaze" or a casual touch in the "sexy harassment", then we will very quickly leave the struggle against real violence, turning it into a means of manipulating others. Didn't you look at me like that? Yes you are a maniac! Prosecutor, two life sentences and another 300 years from above, please.
The child, no doubt, is a person. But the personality, alas, is immature, and it depends on the adults how it, this personality, will be formed. Education is necessary, and education will always contain an element of coercion (rewards for good deeds, punishments for bad). The rejection of this model on the grounds that "this is violence against a person" is absurd, because, in essence, it implies a rejection of education in general, since the child does not receive the coordinates of "what is good and what is bad". The whole human civilization was based on the fact that the rights and duties of a child are limited to his majority, and an attempt to equalize a child in rights with an adult is just as stupid as an attempt to equalize him with an adult in duties would be foolish. Of course, there is a line between upbringing and a cruel attitude towards the child, but it lies much further than the parent slap on the bottom. And today for some of this you can lose parental rights ...
However, it is necessary to clearly understand something else - all of the above, in fact, has nothing to do with democracy. The excesses we are talking about are not the result of democracy. After all, democracy existed in ancient Greece, but there was no similar to what we see in a number of western countries today. For example, the same refugees (immigrants) did not endow there with any special rights and privileges - they were not considered as citizens at all, and they did not participate in the political life of the Greek polis.
Democracy does not entail inequality in the face of the law or a defeat in the rights of certain groups of the population, but it does not protect against them. Democracy does not secure anyone's rights at all.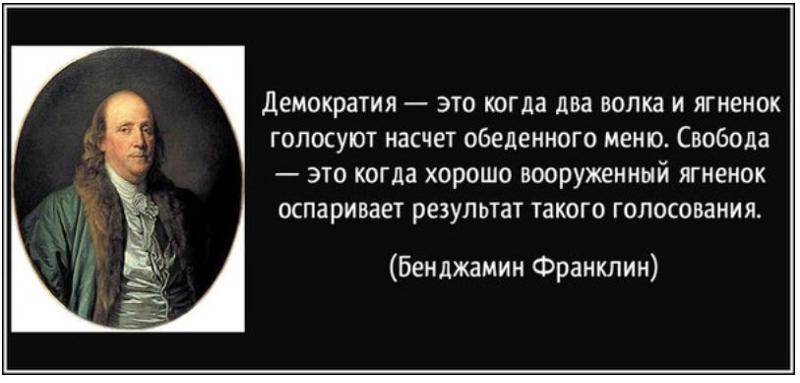 If we recall the history of the same United States, their working class fought for their rights with the help of anything (the formation of trade unions, strikes), but not by democratic elections.
And yet, with all of the above, until recently democracy (with all its flaws) provided the best conditions for a social elevator to power. Yes, only in a number of countries and subject to certain conditions (the presence of several equal and antagonistic political parties), but it provided.
So here. Russia (like any other country) has no need for democracy. In Russia (as in any other country) there is a need to ensure that people who are able to govern the country in the best way can come to power. If we can come up with a system that will cope with this task better than democratic elections, then the need for democracy will disappear by itself.
Today it is difficult to find a person who would be completely satisfied with the way our country is governed. A great many of those who voted for Vladimir Vladimirovich Putin are nevertheless dissatisfied with the situation in the economy, education or medicine, or even everywhere at once. It turns out that we seem to have democracy, but with effective management there are problems. Accordingly, if we want to get effective government, we have a choice: we have to change our civil society so that democracy becomes effective in it, or come up with a different, non-democratic model of governing the country, leaving democracy on the sidelines of history. For, as Napoleon said, who was "a little many" in this article, but who did sometimes say very clever things:
"In essence, the name and the form of government are of no importance: if only justice is granted to all citizens, if they are equal in rights, the state is governed well"
Продолжение следует ...