It is interesting to see how our liberal friends trying to justify America, and on the channel "Russia", in "60 minutes", have already reached the saint - democracy, which in America is supposedly there, and in Russia, unhappy, it is not. They, like the notorious CNN, repeat as a religious mantra: America is democracy, and Russia is autocracy, so America can be bombed and lied to the world, and Russia should "change its behavior" and obey "democracies." Once in the film "Dandies" our main dude, having been in America, brought back a discovery: there are no dudes in America! So, in America there is no democracy, the myth about which our liberals and "democrats" live and lie to us.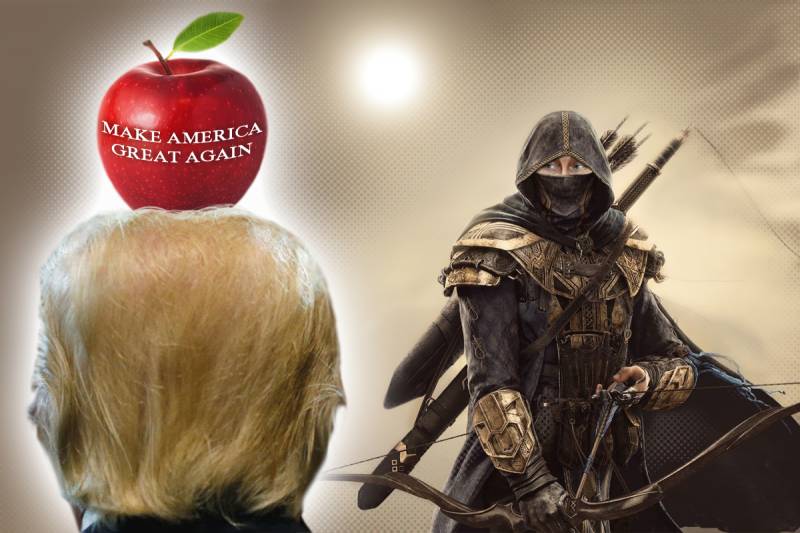 Already in 60 minutes we, instead of analyzing events, give lectures about democratic institutions in America, of which there are as many as three, and they all compete politically among themselves, and the media over them with a holy halo of truth, and as Brzezinski's daughter told CNN, " the task of controlling the thoughts of Americans. " And they all compete so politically that ... America came to Trump, who recently put it about this competition: "fake media went wild", and with them all the "independent" institutions of America, because "world" media are their basis, phase and physiognomy .
Our liberal Americanists always forget to mention another institution in America, and the most important one that surfaced in connection with the Trump presidency, which today is called the "deep state", and Oleg Deripaska personally familiar with its leaders simply called a conglomerate of finance, special services and media. , that is, the oligarchic tip of the iceberg of America.
This is a "deep state" and puts on a play of "political competition" of supposedly independent branches of government, we saw this play in Russia in the 90s, with bare prosecutors on TV. Exactly the same "political competition" today in the States and in other countries of the victorious democracy, under the control of American ambassadors, the guarantors of this "democracy" and the very life of the native democrats.
True, in American televisions, naked prosecutors are still not running, but Trump's severed head is already being shown, and other "political competition" below the belt and at the level of cannibalism. Hillary Clinton already has a dozen corpses of political rivals killed by unknown well-known forces around former Secretary of State and American Democracy's torch, but all independent institutions, like one, are silent, as if they had taken water into their mouths.
In general, in terms of the number of killed presidents, including world-famous John Kennedy, America is ahead of the rest of the world, every fourth, honor, kills. Obviously, due to the political competition of independent institutions. Our well-known political scientist Yevgeny Satanovsky pondered for a long time: would Trump be shot at once, or not? In the case of Trump, "independent institutions" abstain for the time being ...
However, this issue has not yet been resolved completely. Some US media dared to say that "the FBI and the US Justice Department have entered into a conspiracy against Trump." And the silence ... "The Deep State" still thinks: how could something not come out, in the sense that the second John Kennedy did not leave Donald Trump? This is repetition, and repetition is failure!
And all this is happening against the backdrop of purely English murders in the UK: Alexander Litvinenko, Boris Berezovsky, and many of their friends, and, finally, the poisoning of Sergei Skripal with his daughter. Czech President Milos Zeman wonders: why are they being poisoned and killed with exotic poisons, or even with a scarf, when there are ordinary proven and no less lethal means? All independent and politically competitive institutions are silent about this.
We will make a bold independent assumption: this is a consequence of the special service of the MI 6 special services for the glorious criminal traditions of England, according to which the main prosecutor commits mysterious murders: it turns out that, unexpectedly, a cunning murderer! Therefore, all special operations of MI 6 are mysterious and strange, like a Berezovsky scarf, polonium and the Novice OV, in the style of Jack the Ripper and an ordinary stone on a street in Moscow, which turned out to be an English electronic super spy. As our liberals did not believe it!
But our old friend, Professor Immanuel Kant warned: "Democracy is inevitably despotic." Our "democrats" and liberals have not believed and still do not believe him, they think that they hold God by the beard. In fact, Immanuel Kant himself holds them by the beard.
On the other hand, "despotic democracies" are today Vladimir Putin, who even, as it were, "pro-governmental" journalists and political scientists agree to be considered a "soft autocrat." For some reason, they are afraid to admit that in the person of Putin, Russia has acquired an extraordinary statesman, and write off his authority and victories for a clear electoral advantage on a certain "autocracy". Although in the same West, many political scientists recognize his phenomenon.
But the people, the source of democracy, believe Vladimir Putin that he is acting in the interests of the people: in this sense, Putin is a real democrat, perhaps one of the few in the world. Why do people trust Putin and do not trust the assembly of note-taking democrats and politicians?
He sees the results of Putin's work in almost 20 years, and, perhaps, he can intuitively feel what AS wrote. Pushkin, meaning "only a journalist" by historiographer N.M. Karamzin: "Do not trust
history
and professional policy, he sells his works for money. "