The media are actively discussing the events that occurred on the so-called day of anger in Palestine. We are talking about the most large-scale clashes between the residents of the Gaza Strip and the Israeli military in recent times.
On the eve of the anti-Israeli march, called the "Great March of Return", was attended by several tens of thousands of people. In the end, not without frank provocations, the march grew into bloody clashes between the two sides. In this case, the causes of the Palestinians and Israelis called diametrically opposed.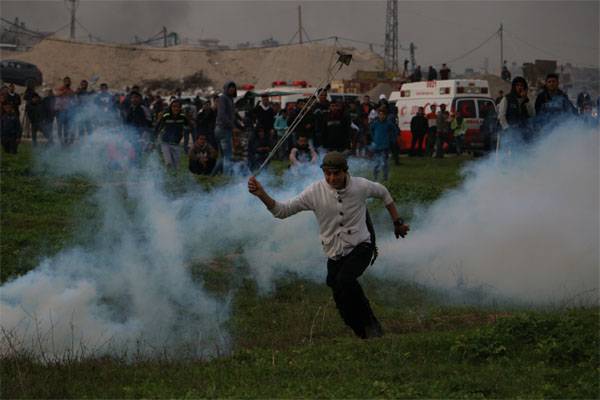 In the Gaza Strip, it is claimed that the clashes began with the fact that Israeli soldiers opened fire. In Israel, they note that the fire was opened after several attempts to attack Israeli security officials.
The conflict on the border of the Gaza Strip has led to many casualties. So, at least 17 people died and several hundred were injured of varying degrees of severity.
UN Secretary-General Antonio Guterres called on both sides to de-escalate the conflict and to investigate the death of people.
In Israel, meanwhile, they said that the protest was held by Hamas as a "cover for anti-Israeli terrorist activities."
From the press service of the IDF:
Two armed Hamas militants approached the separation fence and opened fire on Israeli soldiers. Israeli troops returned fire. Also in the direction of the terrorists was released
tank
the shell.