A Ukrainian court has decided to impose an arrest on the Russian fishing vessel "Nord". This decision is reported by the head of the press service of the Prosecutor General of Ukraine Larisa Sargan on Twitter. Here is the text of the statement:
We continue to work on the detained vessel "Nord", in particular (...) the petition of the Prosecutor's Office of the Autonomous Republic of Crimea, which the arrest of the violator was arrested on, was satisfied.
"The Prosecutor's Office of the Autonomous Republic of Crimea" is a group of persons whom Kiev appointed "responsible" for the peninsula, long ago (with 2014) located within the Russian Federation. That is why the only task of this "prosecutor's office of the Autonomous Republic of Crimea" is to spoil the Crimea and the Crimeans. The arrested vessel, by the way, belongs to the Kerch fishing collective farm.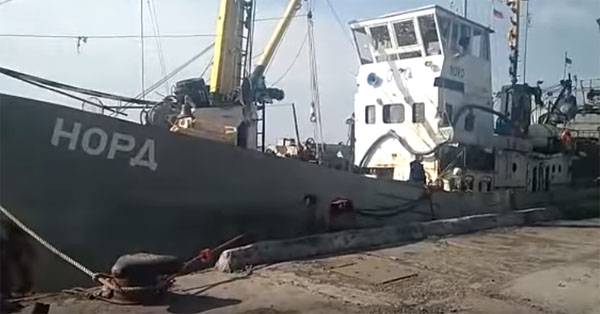 The ship "Nord" was detained by the Ukrainian border guards 25 of March. During the elapsed time on the vessel, escorted to Berdyansk, stocks of food and fresh water have run out.
Recall that only after 4 days after the detention of the vessel of the Ukrainian SBS at the Russian Foreign Ministry demanded from Kiev the release of the vessel and the Russian sailors. There are ten of them.
Earlier, the UFSB in the Republic of Crimea opened a criminal case under article 211 of the Criminal Code "Hijacking an aircraft of the air or water transport or railway rolling stock."