Tomorrow (April 1) a spring draft campaign will start in Russia. In total, it is planned to send 128 thousands of young people between the ages of 18 and 27 to the conscription troops. This is 10% lower than last year's spring draft. It became known that the military commissariats are planning to call on those young people who previously could not do military service for health reasons. This was announced by Acting Chief of the Main Organizational-Mobilization Directorate of the General Staff (GOMU GSH) of the Armed Forces of the Russian Federation, Lieutenant-General Yevgeny Burdinsky.
He is quoted
RIA News
:
We predict that about 3 thousands of such young people will be able to fulfill their military duty.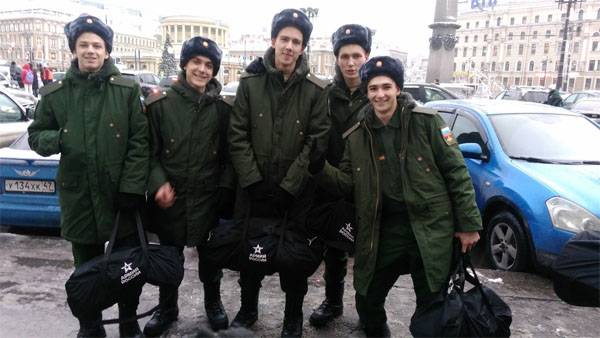 It is noted that we are not talking about young people whose health has not changed or deteriorated since the passage of medical commissions.
An important innovation in the spring conscription 2018 of the year is the norm on the passage by recruits of mandatory professional psychological selection. This rule is designed to improve the psychological work with draftees and to identify those who have serious psychological problems. In the end, we are talking about the general security of service related to the microclimate in military units.
If we talk about other innovations of the call "Spring-2018", then there is an active discussion of the question of lifting the deferment from young people applying for admission to the magistracy.