Colonel-General Sergei Rudskoy, head of the Main Operational Directorate of the General Staff, commented on the situation in the Syrian city of Rakka. Recall that a few months ago, the so-called American coalition announced the liberation of the city, which was under the occupation of ISIL for a long time (* banned in the Russian Federation).
According to Sergey Rudsky, a real humanitarian catastrophe reigns in the city. The Russian general notes that people are trying to return to Rakka, but in reality there is nowhere to return. The city operates the only hospital and hospital.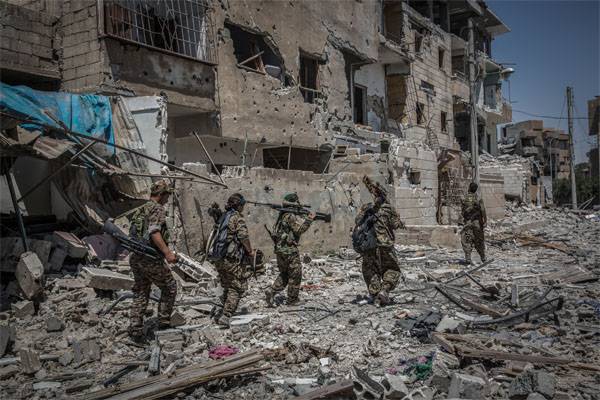 RIA News
Quotes Colonel General Rudsky:
According to the UN Office for the Coordination of Humanitarian Affairs, a disastrous humanitarian situation has developed in Raqqah. In the provincial capital, where about 95 thousands of people returned, the infrastructure was almost completely destroyed, residents do not have access to communal and social services. There is only one hospital and maternity hospital in the city. Due to non-working water supply there are serious problems with the provision of water. Often, water is taken directly from the Euphrates, which increases the risk of the spread of infections and epidemics.
General Rudskoy reported that around 25 km from Raqqa, in the Al-Mansur region, a local uprising broke out against pro-American groups that are trying to impose their own rules. According to Rudsky, locals are ready to take on
weapon
against the forces mentioned, since they behave like the real occupation forces. Recall that in this area there are so-called Democratic forces, most of which are represented by pro-American Kurds. It was precisely for the disarmament of these detachments that the inhabitants of Al-Mansur spoke.
Sergey Rudskoy added that the United States and the formations under its control clearly do not control the situation in the Syrian province of Racca after its so-called "liberation."